Senator brands Cheney 'lead chickenhawk'
(Agencies)
Updated: 2004-04-29 09:32
Democratic Sen. Frank Lautenberg on Wednesday called Vice President Dick Cheney the "lead chickenhawk" in an escalating war of words over the Vietnam-era military service of President Bush, Democratic rival John Kerry and the vice president.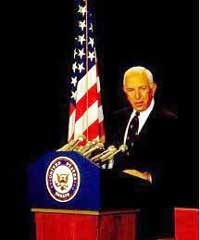 Senator Lautenberg speaks at a press conference on Capitol Hill. [file photo]

"We know who the chickenhawks are," the New Jersey senator said on the Senate floor. "They talk tough on national defense and military issues and cast aspersions on others, but when it was their turn to serve, they were AWOL from courage."

The Bush-Cheney campaign had no immediate comment on Lautenberg's criticism.

Cheney received five student and marriage deferments of military service during the Vietnam War. The vice president has not questioned Kerry's military record, but has argued that the four-term Massachusetts senator's voting record on defense and intelligence issues casts doubts on his judgment for commander in chief.

Bush served in the Texas Air National Guard during the war, and Democrats have questioned whether he fulfilled his duties. To prove the president showed up for duty during a temporary transfer to an Alabama base, the White House has released pay records and a copy of a dental exam Bush received on the base.

Kerry was a decorated Navy veteran in Vietnam and an anti-war demonstrator when he returned home. The presumptive Democratic nominee has said Bush and Cheney have no credibility in criticizing his service and anti-war effort because Bush has been dogged by questions about his Guard attendance and Cheney sought numerous deferments.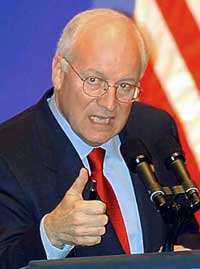 Dick Cheney. [Reuters file]

The criticisms, which for the most part have been limited to the campaign trail, spilled over into Congress on Wednesday.

Lautenberg defined a chickenhawk as "having the shriek of a hawk but the backbone of a chicken," and said, "and now the chickenhawks are squawking about Senator Kerry. The lead chickenhawk against Senator Kerry is the vice president."

House Minority Leader Nancy Pelosi, D-Calif., emerging from a meeting for Democratic lawmakers with Kerry campaign chairwoman Jeanne Shaheen, said the president should explain what he was doing while in the National Guard.

"As far as we know, Senator Kerry got three Purple Hearts for risking his life in Vietnam and President Bush got a dental examination in Alabama," Pelosi said.

Speaking on the House floor Wednesday, Rep. Jim McDermott, D-Wash., characterized Bush's military service as "missing without action."

"We know that Senator John Kerry fought with courage and valor on behalf of his country," McDermott said. "We know that George W. Bush flew under the radar, because that's the only explanation for how a pilot suspended from flying parachuted into a Republican political campaign in Alabama."
Today's Top News
Top World News

New suspected SARS case; lab visitors warned




Illegal land use sinks iron project




112 die in Thailand's quash of militants




Senator brands Cheney 'lead chickenhawk'




Reform on officials' car use in the offing




New Oriental language school set to appeal