Video game shows face demise
(eastday.com)
Updated: 2004-04-29 09:22
Zhang Zhiyuan, a 23-year-old video game enthusiast, flipped on his TV set on Tuesday afternoon to watch "Game Players," a show about video, PC and online games shown on Dragon TV.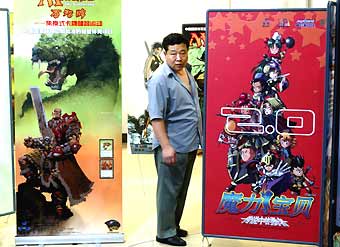 A man stands besides advertisement posters at a video game fair in Shanghai. [newsphoto]

But it wasn't on, and might never be broadcast again due to new rules restricting TV shows that promote video games.

The new rules come at a time when the government is cracking down on Internet cafes, at least partially to prevent youngsters from spending hours at a time playing online games, which some officials deem socially harmful.

On April 21, the State Administration of Radio, Film and Television announced the rules, which took effect immediately, forcing shows about computer games to be canceled or altered by broadcasters all across the country.

Producers of "Game Players," one of two shows in the city about computer games, were told last Friday night that the program was being canceled.

The other local show, "Crazy about Games," could survive, but with some minor changes.

Huang Xi, who worked as a producer for "Game Players," says he is still shocked that the program was canceled so abruptly. While he admits the program had received many complaints about its content, he says he always believed it would carry on.

"It's depressing," Zhang, the young game player, told Shanghai Daily yesterday when asked his feelings about the show being killed.

He says that he and many others mainly play video games on a Playstation, not the Internet or a PC, so the show should have been changed to cover those topics, since the rules focus only on online games.

"Actually, Internet games just account for a small portion of the two local game shows," said Zhang.

Both shows provided viewers with information about new game releases, held debates on game related topics and held video game contests.

But unlike "Game Player," "Crazy about Games" looks like it will only have to make a few changes, avoiding cancellation.

"Providing various game information and inviting game fans to join in televised contests are two major parts of our program," Huang Hao, a producer at "Crazy about Games," said of his program's lucky escape yesterday.

He said the program never spent a lot of time focusing on online games, so it shouldn't be too tough to dump that content.
Today's Top News
Top Life News

New suspected SARS case; lab visitors warned




Illegal land use sinks iron project




112 die in Thailand's quash of militants




Senator brands Cheney 'lead chickenhawk'




Reform on officials' car use in the offing




New Oriental language school set to appeal