Efforts intensified to create jobs
(China Daily)
Updated: 2004-04-29 01:24
The government and all quarters of society are dedicated to economic growth and job creation, said Vice Premier Huang Ju Wednesday in Beijing.
To this end, salient achievements have been made, he said in his address during the opening ceremony of the China Employment Forum co-sponsored by the International Labour Organization and China's Ministry of Labour and Social Security.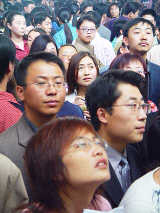 About 20,000 job-seekers apply for positions offered by government departments in Lanzhou, northwest China's Gansu Province April 23, 2004. [newsphoto]
The forum will conclude tomorrow.
China considers job creation crucial to the people's lives and State stability, and the government pledged to "take more substantial and effective policies and measures, and devote more substantial efforts to seek a solution to China's employment problem," Huang told some 500-plus participants and 25 governmental delegations.
This year, China will make more efforts to protect migrant labourers' rights and clear the way for them to work in urban areas, said Zheng Silin, minister of labour and social security at the forum.
The government will remove all the barriers blocking rural labourers from working in urban areas this year he said.
Statistics with the ministry show that in the past 20 years, more than 200 million rural laborers have moved to urban areas.
The number of people employed in township enterprises has reached 130 million and about 100 million rural labourers are employed in urban areas or developed regions.
However, China has still has 150 million surplus rural labourers and more of them need jobs in non-agricultural sectors with the further adjustment of the agricultural structure, said Zheng.
Wu Xiaoling, vice governor of the People's Bank of China, said more loans should be granted to small enterprises as they have a strong capacity to create jobs.
Loans to small enterprises, especially labour-intensive firms, can not only help them develop, but also help them create jobs, he said.
Statistics show that small and medium-sized enterprises represented about 75 per cent of the total job opportunities for urban laborers and have become a major job provider in China.
The policy of giving loans to promote employment started in 2002 and the loans mainly go to laid-off workers who want to start their own business.
However, as most of them are not very qualified and competitive, it is very hard for them to succeed, said Wu.
Xie Boyang, vice-chairman of the All-China Federation of Industry and Commerce, emphasized the role of the private economy in job creation.
According to a survey conducted by the Ministry of Labour and Social Security in 66 cities last year, around two thirds of workers laid-off by State-owned enterprises were re-employed in private enterprises.
The number of employees in large private industrial enterprises has, the survey showed, increased by 16.1 per cent in 2003, much higher than the average growth rate of 4.3 per cent in all industrial enterprises.
Today's Top News
Top China News

New suspected SARS case; lab visitors warned




Illegal land use sinks iron project




112 die in Thailand's quash of militants




Senator brands Cheney 'lead chickenhawk'




Reform on officials' car use in the offing




New Oriental language school set to appeal