New Oriental language school set to appeal
(China Daily)
Updated: 2004-04-28 22:13
Beijing-based New Oriental, an extremely popular overseas examinations training school in the country, Wednesday refused to accept a judgment in September last year which ordered it to pay compensation of 10 million yuan (US$1.2 million) to the US-based Educational Testing Service (ETS) and Graduate Management Admission Council (GMAC) for copyright and trademark infringement.
New Oriental instituted an appeal to the Beijing High People's Court and the hearing for the lawsuit's second instance was held Wednesday with no judgment made yet.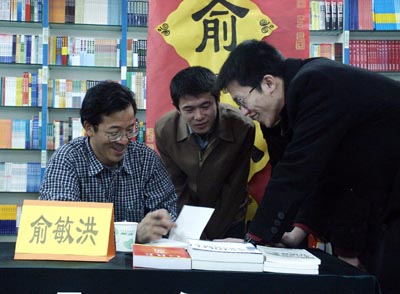 Yu Minhong, founder of the New Oriental Education Group discusses English study with two students at a Changchun bookstore.
The first-instance judgment was made by the Beijing No 1 Intermediate People's Court in September after a trial lasting more than a year.
During Wednesday's hearing, New Oriental claimed that its publishing papers of the Test of English as a Foreign Language (TOEFL), Graduate Record Examination (GRE) and Graduate Management Admission Test (GMAT), developed by ETS and GMAC, did not violate the copyright and trademark right of ETS and GMAC.
"Test papers are not within the range of protection according to the Copyright Law of the People's Republic of China," Li Qi, the lawyer representing New Oriental, said Wednesday.
Zhou Qiang, the lawyer of ETS replied: "Test papers belong to works and their copyright should be protected, according to the Berne Convention for the Protection of Literary and Artistic Works, in which China is a member country."
As the developer and sponsor of two widely recognized examinations that students from non-English-speaking countries are required to take before applying to universities in the United States, the New Jersey-based ETS has registered the copyright of TOEFL and GRE test questions with the US copyright authorities, and has registered "TOEFL" and "GRE" as trademarks in China.
The Virginia-based GMAC, developer and sponsor of GMAT, has also carried out the same procedures, the judgment for first instance confirmed.
"Copyright of TOEFL, GRE and GMAT has never been challenged in any other countries and regions before New Oriental's illegal behaviours," Zhou said.
Industry and commerce authorities in Beijing confiscated thousands of illegal copies of ETS and GMAC test papers produced by New Oriental in 1996, 1997 and 2000, sources said.
Stanford Von Mayrhauser, senior vice-president of ETS told China Daily Wednesday that New Oriental's appeal had absolutely no grounds.
Mayrhauser, together with two ETS staff, arrived in Beijing three days ago to assist the hearing.
He said there was no hope of ETS co-operating with New Oriental.
Tidetime became ETS' partner on the Chinese mainland in September last year to publish TOEFL and GRE papers.
Sources with New Oriental declined to comment Wednesday.
After the initial judgment last year, Xu Xiaoping, spokesman for the New Oriental Education Group, said he was regretful about the court decision, "New Oriental want to make an apology for our mistakes in the past."
But Xu, a trustee of the group, emphasized that it was discrimination by ETS that resulted in New Oriental's using unauthorized teaching materials.
"In the past, ETS refused to publish testing materials on the Chinese mainland despite demand from Chinese students who want to study abroad," he said.
New Oriental Wednesday expressed a wish to accept court conciliation but ETS disagreed.
Today's Top News
Top China News

New suspected SARS case; lab visitors warned




Illegal land use sinks iron project




112 die in Thailand's quash of militants




Senator brands Cheney 'lead chickenhawk'




Reform on officials' car use in the offing




New Oriental language school set to appeal