Gadhafi makes historic visit to Europe
(Agencies)
Updated: 2004-04-28 07:58
Libyan leader Moammar Gadhafi, once considered one of the world's most dangerous men, came to Europe for the first time in 15 years Tuesday, offering business deals and an olive branch - along with a veiled threat to return to the "days of explosive belts" if provoked by "evil" from the West.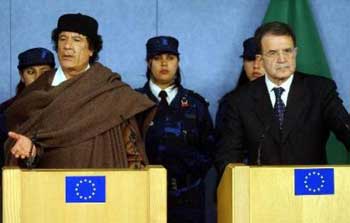 Libyan leader Moammar Gadhafi, left, and EU Commission President Romano Prodi address the media at the EU Commission headquarters in Brussels, Tuesday April 27, 2004. [AP]

He swept through the headquarters of the European Union like a movie star in brown Bedouin robes, flanked by female bodyguards in blue camouflage.

He gave a clenched fist salute to about 200 supporters outside the building while a smattering of protesters barricaded across the street shouted "Gadhafi murderer!"

Inside, as Gadhafi and his host, European Commission President Romano Prodi, posed for photographers, a man pretending to be a security guard slipped forward and tried to hand Gadhafi a letter before being hustled away, shouting as the paper went flying overhead.

Gadhafi, stone-faced, ignored the bedlam and continued shaking hands with a grinning Prodi.

Upstairs in his office, Prodi presented Gadhafi with a boxed set of euro coins and a "pen to sign our friendship." When Gadhafi jokingly asked what the coins were worth, Prodi responded: "Only 20 euros. It's not a big value."

After three hours of talks, Prodi declared himself "very happy" about the visit, which he said he worked five years to arrange.

But even Prodi began fidgeting uncomfortably as Gadhafi rambled on for half an hour to hundreds of journalists gathered for their only scheduled chance to hear him speak during the two-day visit.

"It goes without saying this is a very historic meeting," Gadhafi began, speaking through a translator as three of his female bodyguards stood at attention behind him.

Gadhafi declared his readiness to work with the West peacefully after years of championing armed struggle against it.

"Libya did its duty when duty had to be done by arms," he said. That included firing missiles at U.S. fighter aircraft in the 1980s and setting up training camps for "freedom fighters" from around the developing world, for which he said Libya was "unjustly" accused of a "kind of terrorism."

Now that Libya has given up its weapons programs, it has become "an example to be followed," he asserted, calling on countries "from China to America" to do the same.

"I would like to seize the opportunity today and declare before you ... that Libya is determined and committed to play a leading role in achieving world peace," he said.

Noting Libya's huge gas and oil reserves, he said European and U.S. companies were needed "to update and modernize the wells ... and to develop them. ...

"This requires peace," he said, hinting at a possible motivation for his change of heart.

Still, he warned an upsurge in violence across the Mideast could undo Libya's conversion, apparently referring to the U.S.-led occupation of Iraq and the Israeli-Palestinian conflict.

"I hope we shall not be prompted or obliged by any evil to go back or look backward," he said.

"Hopefully nothing would force us to go back to the days when we use our cars and explosive belts, to put explosive belts around ourselves or on our women so we will not be searched and harassed in our bedrooms and in our homes as is happening in Iraq and Palestine.

"The victims are women and children, the battlefield in the kitchen and the bedroom. We don't want to be forced to go back to the days when we had do that," he said.

Neither Gadhafi nor Prodi took questions.

Prodi said he welcomed Gadhafi's "bold moves" in renouncing weapons of mass destruction and said he was committed to bringing Libya into the EU's regional aid and trade program "as soon as possible."

"We need to work together on peace, stability, migration, security, economic reform and cultural cooperation," Prodi said. "This is the essence of our new neighborhood policy, within which Libya must find its place."

The visit was intended to help pave the way for normalization of relations between the EU and Libya, following recent visits to Tripoli by Italian Premier Silvio Berlusconi and British Prime Minister Tony Blair.

The United States last week lifted most of its commercial sanctions on Libya but trade restrictions with Europe remain, including an arms embargo.

Libya's recent settling of the Pan Am and UTA airliner bombing cases contributed to the recent rapprochement. The 1988 bombing of the Pan Am jumbo jet over Lockerbie, Scotland, killed 270 people; the French UTA airliner bombing over the Niger desert killed 170 people in 1989.

Germany is negotiating for compensation from Libya for victims of a 1986 bombing at a West Berlin disco known as a hangout for American troops. Two U.S. soldiers and a Turkish woman were killed and 229 people injured in the attack allegedly ordered by Gadhafi.

Bulgaria also wants the release of six Bulgarian medics detained in Tripoli since 1999 on charges they deliberately infected hundreds of children with the AIDS virus.

Prodi said he raised both issues with Gadhafi and was "fully confident that we will see in the next few weeks satisfactory solutions."

Gadhafi's last trip to Europe was in 1989, when he delivered a disjointed harangue against Jews and the U.S. dollar at a summit of nonaligned nations in Belgrade, Yugoslavia.
Today's Top News
Top World News

US embassy visa call centre closed for illegal operation




Disaster monitoring satellites to be launched




Intervention in HK issues rejected




Workplace accidents down, but more deaths




WHO teams fly in on SARS mission




Photographer asks for compensation