No new SARS cases reported in past 24 hours
(China Daily)
Updated: 2004-04-26 23:40
China reported no new suspected or diagnosed SARS cases for the 24 hours from 10 am Sunday to 10 am Monday, the Chinese Health Ministry said Monday.
The ministry said in its daily SARS (severe acute respiratory syndrome) surveillance report that the diagnosed SARS patient in Beijing, surnamed Li, is in relatively stable condition and has had a normal temperature for 10 straight days.
The five suspected SARS patients in Beijing are now receiving medical treatment at Beijing Ditan Hospital, the ministry said.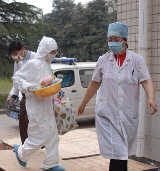 More than 20 people with close contact with a SARS patient, including five running a high fever, in Hefei, Anhui Province, are transferred to specialized hospitals for further medical observation April 25, 2004. [newsphoto]
The SARS patient in Anhui Province, surnamed Song, is also in stable condition and none of the people who had close contact with her have shown abnormal symptoms so far.
In addition, the ministry said that an investigation has been carried out in hospitals at and above the county level on the death and pneumonia cases with no clear causes that have occurred since March 20.
"So far, no cases were found to be suspicious and related with SARS," ministry officials said.
Meanwhile, the Chinese Centre for Disease Prevention and Control (CDC), whose Institute of Virology has been sealed and isolated since April 23 due to possible laboratory infection, reported that no staff under quarantine have shown any strange symptoms at this point.
The Beijing-based CDC said it has listed all the people who had been to the Virology Institute since March 20 and investigations to tracing those people are still being carried out. A senior official with the World Health Organization (WHO) Monday voiced appreciation over China's quick and serious response to deal with the reappearance of SARS cases in Anhui and Beijing since April 22.
Shigeru Omi, director of the WHO's Western Pacific Regional Office based in Manila
, told Xinhua in a seminar with foreign press that the organization is satisfied with the Chinese Government's quick response and information sharing with the domestic public and international community in this matter.
"The Chinese Government has taken serious measures to address (SARS) this time such as identifying passengers who took the same train (with the virus carrier) and share the information with the public and the WHO," Omi said.
He said that he believes China would overcome the SARS situation as soon as possible, since the linkage among the diagnosed patients and suspects has been traced and the surveillance and prevention system, which the Chinese Government had developed to address SARS crisis last year, have been put in practice.
Omi noted that there has no need to be panic so far because compared with the crisis last year, "the infectors are still small in amount and will not result in an instant transmission."
It is the third time that SARS has returned since the big crisis last year. Two lab researchers were separately infected with the virus in Singapore and China's Taiwan in September and December.
Today's Top News
Top China News

NPC rules out HK general elections in 2007, 2008




Testimony: Japanese war chemicals did harm




Zeng: Hegemony never on nation's agenda




Control needed for radiation sources




Employment situation called stable




Sinopec buys more oil from Russia