Lakers edges Rockets 92-88 in OT, leads 3-1
(Agencies)
Updated: 2004-04-26 08:51
On a day when the Houston Rockets nearly evened things up by shutting Los Angeles down, Karl Malone's best game of the playoffs -- and perhaps the season -- helped move the Lakers within one victory of the second round.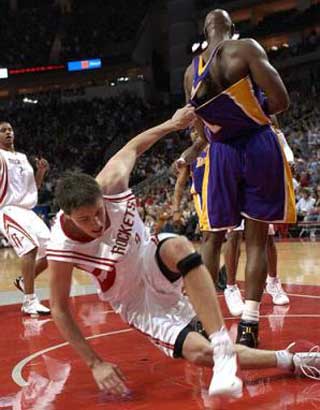 Houston Rockets' Bostjan Nachbar, of Slovenia, rips the jersey of Los Angeles Lakers' Karl Malone after being fouled while going up for a shot during the second quarter in Game 4 of the first-round Western Conference NBA playoffs April 25, 2004 in Houston.[AP]

With the intensity level taking a decided tick upward and the distaste between the coaches taking a foul-mouthed turn, the 40-year-old Malone had 30 points and 13 rebounds while playing with the energy of someone half his age.

The last of Malone's three steals, along with his second offensive rebound, put the finishing touches on the Lakers' 92-88 overtime victory Sunday for a 3-1 lead in the best-of-seven series.

Game 5 will be Wednesday night, with the Rockets trying to stay alive after coming so close -- just as they did in Game 1 -- yet failing to win.

Houston held Los Angeles scoreless over the final 4 1/2 minutes of regulation and led by as many as four in overtime before Los Angeles closed the game with an 8-1 run.

Malone surpassed his regular-season scoring high by 10 points, playing most of the game with a ripped jersey after he was in the middle of a first-half altercation.

Kobe Bryant scored six of his 18 points in overtime, including a three-point play that put the Lakers ahead with 40 seconds left. Malone then stole the ball from Steve Francis, and the Lakers let the clock run down before Derek Fisher missed a jumper. Malone grabbed the rebound and was fouled, clinching the victory by making a free throw with a satisfied grin on his face.

Whatever it was that motivated Malone, it worked.

He had been criticized a day earlier by Rockets owner Leslie Alexander, who said he should be suspended for being a dirty player, and he got into an early face-to-face shouting match with Francis after Malone undercut Rockets forward Bostjan Nachbar.

The tension also extended to Houston coach Jeff Van Gundy, who cursed loudly and directly at longtime nemesis Phil Jackson of the Lakers late in the first quarter, then sprinted onto the court during an altercation moments later.

The game also featured Bryant getting poked in the eye, Yao Ming fouling out and Gary Payton getting some playing time down the stretch after sitting out the fourth quarter of Games 2 and 3.

Shaquille O'Neal was not a big part of the offense for the Lakers, scoring 17 points with 12 rebounds. Malone helped make up for O'Neal's lack of production and joined Kareem Abdul-Jabbar as the only 40-year olds to score 20 or more points in a postseason game.

Malone had 20 points, eight rebounds and one technical foul by halftime, getting the tech for storming after Nachbar after the Slovenian forward fouled him on a breakaway layup.

On the previous possession, Malone stuck his hip out as Nachbar went in for a dunk and knocked Nachbar off-balance. Nachbar reached back while still in the air and grabbed the back of Malone's jersey, ripping it.

Francis immediately confronted Malone, and Van Gundy sprinted onto the court -- similar to what he did during a 1998 Heat-Knicks playoff series when he grabbed onto Alonzo Mourning's leg during a more heated confrontation.

Van Gundy already showed how fired up he was moments earlier, cursing twice at Jackson after the Lakers coach apparently said something to him as Van Gundy drifted toward center court to vehemently argue a non-call.

Yao took over the defensive assignment on Malone for the first seven minutes of the third quarter, and his fifth foul came on a dunk by O'Neal with 10:37 left in the fourth quarter. He didn't return until 2:38 remained, but the Rockets were able to close the gap while he sat, using a 6-0 run -- during which Bryant was poked in the left eye by Francis while going for a loose ball -- to pull to 77-75.

Francis nailed a 21-footer to tie it at 81-81 with 39 seconds left.

Bryant missed on a drive with 28 seconds left, and Francis shot an airball against Fisher's defense. That led to a 24-second violation and gave the Lakers 3.1 seconds for a final shot, but Bryant shot an airball.

Malone drew Yao's sixth foul with 1:27 remaining and converted a three-point play to cut the Lakers' deficit to 87-86, and Bryant scored off a steal -- ending his string of seven consecutive missed shots -- to put Los Angeles ahead with 1:12 left.

Francis tied it by making one of two before Bryant, forced left by Cuttino Mobley, drove around him, made a layup and was fouled. The three-point play put Los Angeles ahead to stay.

Francis led Houston with 17 points.
Today's Top News
Top Sports News

Hu: China to quadruple GDP by 2020 to $4 trillion




Legislators to amend methods on HK issues




Website loses case over MP3 downloads




22 detained for fake milk products




Lakers edges Rockets 92-88 in OT, leads 3-1




Survey: East richer than west