China reports 4 new suspected SARS cases
(chinadaily.com.cn)
Updated: 2004-04-25 16:22
Four new suspected cases of severe acute respiratory syndrome (SARS) - all contact with a confirmed patient - were reported in Beijing during the weekend, said the Ministry of Health.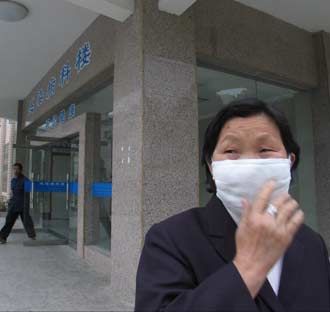 A Chinese woman wears a mask to guard against SARS virus at the No.1 Hospital affiliated to the Anhui University of Medical Sciences, where the SARS patient is isolated in Hefei, East China's Anhui Province, April 24, 2004. [newsphoto]
The new cases were reported in the 24 hours prior to 10 am Sunday and include the parents of Li, a Beijing nurse who is a confirmed SARS patient.
No new suspected or confirmed cases were reported in other parts of the country, the ministry said.
Since Thursday, Beijing has reported one confirmed and five suspected SARS cases, while East China's Anhui Province has reported one confirmed and one suspected case.
In Beijing a total of 337 people are under quarantine and in Anhui the number is 133.
Both confirmed SARS patients, with the surnames Li and Song, are in stable condition and their body temperatures are normal, the ministry said.
Mao Qun'an, the ministry's spokesman, said two of the people affected work at a viral diseases research institute of the Chinese Centre for Disease Prevention and Control in Beijing. Neither was working on research that required direct contact with the SARS virus.
Now experts are trying to figure out how the SARS virus had spread, he said.
The Ministry of Health and the Ministry of Science and Technology has sent five investigation teams to check labs that do research on SARS, reported China Central Television (CCTV).
The two ministries reiterated that no individuals or organizations should conduct SARS research without official approval.
Meanwhile, the respiratory ward of the Renmin Hospital in Beijing, where Li had been hospitalized prior to her SARS diagnosis, has been closed, as has the lab at the research institute.
In another development, the Anhui health authority yesterday publicized the numbers of the trains in which one confirmed and one suspected SARS patients travelled together.

Today's Top News
Top China News

NPC rules out HK general elections in 2007, 2008




China to quadruple GDP by 2020 to $4 trillion




Website loses case over MP3 downloads




Working age population to hit 940m by 2020




22 detained for fake milk products




Lakers edges Rockets 92-88 in OT, leads 3-1