Red Cross: North Korea site flattened
(Agencies)
Updated: 2004-04-25 14:47
A Red Cross worker who visited the site of a train explosion in North Korea has described the scene as one of devastation, with burned and "totally flattened" buildings.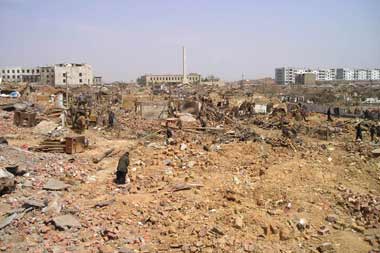 North Koreans stand amidst rubble near the railway station in Ryongchon, North Korea, April 24, 2004. At least 161 people, including 76 students, were killed and more than 1,300 people were injured in a catastrophic explosion at the railway station in the town of Ryongchon near the Chinese border on April 22. [Reuters]
Xinhua news agency on Saturday quoted an official as saying at least 161 people -- including scores of children -- died and 1,300 were injured in Thursday's blast at Ryongchon, about 50 kilometers (31 miles) south of the border with China.
The report cited a senior North Korean rescue official as saying 76 of the dead were students. The death toll could rise, it said.
North Korean officials had earlier told foreign diplomats and relief organizations that hundreds of people were killed and thousands injured.
Some reports said the cause of the blast was an explosives accident, while others said it was a collision between two trains.
Red Cross official Jay Matta said those buildings that were left standing within a few hundred meters (yards) of the blast site had broken windows, damaged roofs and "showed signs of scorching."
"There was just rubble everywhere and very large craters in the ground. The buildings around were totally flattened," he added.
Matta said he did not see any dead or injured at the site and assumed that North Korean rescue workers had already taken victims to hospitals.
"It looks like they did a thorough search" before international aid workers arrived, The Associated Press reported him as saying.
John Sparrow, a Red Cross spokesman in Beijing, said Matta had told him earlier that damage from Thursday's explosion was spread out within a radius of 4 kilometers (2.5 miles).
Pictures from Xinhua news agency showed a huge hole that dwarfed onlookers in Ryongchon.
"The railroad station and the immediate surroundings were obliterated," said Sparrow. Matta, who is based in Pyongyang, described "a crater as though a fireball" had hit.
Earlier Saturday, North Korea broke its silence on the blast releasing a statement saying "carelessness" caused the explosion.
The country's state news agency reported that electrical contact detonated train cars loaded with a chemical component of fertilizer.
The Korean Central News Agency statement expressed gratitude for offers of help from governments and aid agencies.
International diplomats said earlier they had been told several hundred people were killed and thousands injured in the blast.
U.N. Secretary-General Kofi Annan said a U.N. inter-agency mission would "mobilize immediate support and assistance to the people in the afflicted area."
The Office for the Coordination of Humanitarian Affairs and the World Health Organization will lead the U.N. mission to Ryongchon, the site of the explosion.
The blast destroyed between 1,800 and 2,000 homes, Swedish Ambassador Paul Beijer said Friday.
"The needs are for shelter material, medicines and food," the U.N. chief in Pyongyang, Masood Hyder said.
"As a first step we are going to do a joint assessment, and we've already started to move forward stocks to initiate a response."
Eigil Sorensen, the World Health Organization's representative to North Korea, said the blast had created "a major disaster."
"We have quite considerable amount of medical supplies and equipment in the country, which is part of the WHO support for strengthening health services," Sorensen said, "and what we are doing now is relocating some of the supplies and equipment to the disaster site."
The explosion occurred at a train station that serves as a transportation hub for trade between China and North Korea. It is unclear how much damage might have been done to the facilities.
The U.S. State Department on Friday said it had not received any requests for aid from North Korea, but did not rule out possible U.S. assistance once needs are identified.
Ryongchon is a sparsely populated area northwest of the North Korean capital Pyongyang.
The blast happened nine hours after North Korean leader Kim Jong Il passed through the station, en route to Pyongyang after a recent visit to China, Yonhap reported.
Today's Top News
Top World News

China reports 4 new suspected SARS cases




Chinese economy facing challenges




Local gov't debts sound warning




Red Cross: North Korea site flattened




China's per capita GDP to hit US$3,000 in 2020




Da Vinci: Inventor of the Car?