Electric sparks blamed for DPRK train blasts
(Xinhua)
Updated: 2004-04-25 08:47
Thursday's train explosions at the Ryongchon railway station in the Democratic People's Republic of Korea (DPRK) were caused by electric sparks during the shunting of wagons loaded with ammonium nitrate fertilizer, the official Korean Central News Agency (KCNA) confirmed in a statement Saturday.
Investigations conducted so far show the damage is very serious,said KCNA.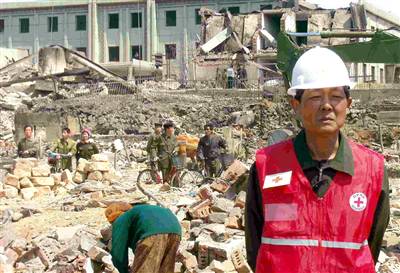 Rescuers sift through rubble Saturday after a catastrophic explosion at the railway station in Ryongchon, North Korea. [Reuters]
The DPRK government is spearheading recovery work and is helping local people return to normal.
The DPRK appreciates offers of humanitarian assistance from other countries, international bodies and organizations, KCNA said.
At least 154 people, including 76 primary school students, werekilled and more than 1,300 injured in the explosion.
Today's Top News
Top World News

Chinese economy facing challenges




SARS patient's temperature back to normal




Electric sparks blamed for DPRK train blasts




China's per capita GDP to hit US$3,000 in 2020




Da Vinci: Inventor of the Car?




Mandatory condom use in porn films debated