Mandatory condom use in porn films debated
(Agencies)
Updated: 2004-04-24 00:27
After two well-known pornographic film stars tested HIV-positive, California health authorities are thinking about requiring condom use in adult films.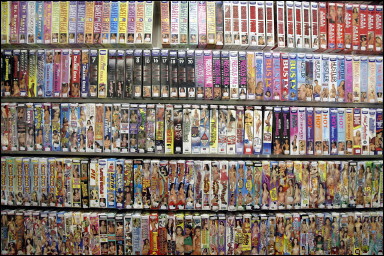 Rows of adult entertainement line the shelves of a store in California. Health authorities in California are thinking of requiring condom use in adult films after two well-known pornographic stars test HIV-positive. [AP]

"We are thinking of making the use of condoms mandatory," Gunther Freehill, head of the AIDS program in the Los Angeles County Office of Health Services, told AFP.

Porn industry representatives, the Free Speech Coalition (FSC) and the Adult Industry Medical Health Care Foundation (AIM) met this week with county health authorities to discuss, among other things, the obligatory use of condoms in filming.

Not all were in favor.

"It will be overkill," Kat Sunlove, executive director of the Free Speech Coalition (FSC), said of obligatory condom use. "They are overreacting to a very sad situation."

The FSC defends the rights of California's multi-million-dollar porn industry, concentrated in the San Fernando Valley north of Los Angeles, producing 4,000 films a year and employing 6,000 people.

One adult film producer said he once required the use of condoms in his productions but almost went out of business for it. He said he would return to that policy if his peers would also.

"I only made condom positive videos for several years," Christian Mann, owner of the studio named Video Team, said in an interview with the adult industry website, www.MrWebReview.com.

"I wish all of my peers had done the same. I would be willing to return to that policy if the others would, instead of only Wicked and Vivid. I took the stance that I thought was correct and almost lost all of my market share as reward for my efforts," said Mann.

"Being the only condom-mandatory company producing ethnic videos was not a good business model," he said. "That's why I finally gave in."

"I can't predict what will happen next," said Mann. "Clearly some changes need to be considered and maybe implemented to make our business more secure for everyone."

Last week, panicked by the revelation that porn film star Darren James had tested HIV-positive in a routine physical, the porn film industry suspended production for six days so that the 45 players who had had on-camera sex with James could be tested.

One of them, named by the industry as Lara Roxx, tested positive.

A month before he tested positive, James had had unprotected sex during filming in Brazil.

At the urging of AIM, some 1,200 adult film actors are undergoing regular HIV testing and are only permitted to return to work if they test negative.

Only 17 percent of the actors now use condoms.

To compensate for the risk posed by unprotected sex, many studios are paying bonuses to actors to have on-camera sex without condoms.

Freehill of AIM thinks safe sex in adult films is doable.

"In the same way that you don't see all the wires in movies, although the wires are there, we want to see the industry use the same creativity to create the same fascinating effect with the use of a condom," he said.
Today's Top News
Top Life News

Two SARS cases confirmed, one died, virus from lab




Alleged collegiate killer sentenced to death




Hu: Modernization needs long uphill battle




China condemns attack on consulate




DPRK blast scene: A ring of destruction found




Wu urges US to loosen export controls