Rockets rip Lakers 102-91, cut L.A. lead
(Agencies)
Updated: 2004-04-24 13:41
The Houston Rockets defeated the Lakers 102-91 Friday night, cutting Los Angeles' lead to 2-1 in their best-of-seven Western Conference playoff series.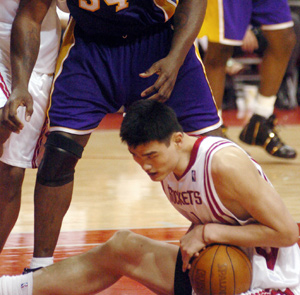 Houston Rockets center Yao Ming (R) recovers the ball while battling Los Angeles Lakers center Shaquille O'Neal (34) for a rebound as the Rockets win their NBA playoff game 102-91 at the Toyota Center in Houston, April 23, 2004. Rockets guard Steve Francis (L) was also in on the play as the Lakers lead the first round playoff series 2-1. [Reuters]

It was a rare Game 3 loss on the road for a team coached by Phil Jackson with a 2-0 series lead. His teams, when given a chance to take an all-but-insurmountable 3-0 lead, have historically gotten it.

In this case, however, the Lakers got away from what was working early, and by the time they went back to an Shaquille O'Neal-dominated offense in the final 12 minutes it was too late.

Steve Francis had 27 points, nine rebounds and seven assists, Cuttino Mobley added 21 points, Yao Ming scored 18 and Maurice Taylor came off the bench to add 16 as the Rockets thrilled their fans in the first playoff game in Houston since 1999.

The series resumes with Game 4 on Sunday.

O'Neal scored 25 points, 11 coming in the first few minutes and 10 more coming in the fourth quarter. Kobe Bryant scored 21 and Karl Malone 18.

Aside from the mysterious 24-minute disappearance of O'Neal, the biggest factor in this game was Houston's 3-point shooting.

The Rockets, who had made only five 3s in the first two games of the series, had nine of them ¡ª including four by Francis and three by Jim Jackson. Houston also outrebounded Los Angeles, which was hurt by 10 missed free throws ¡ª nine by O'Neal.

After Francis drove through several defenders and hit a twisting layup while being fouled for a 92-86 lead with 1:07 left, Bryant jacked up a long 3-pointer that missed. Francis then banked in a difficult off-balance shot with 40 seconds left and completed a three-point play for a 97-86 lead.

Since leading the Chicago Bulls to the 1991 NBA championship, Jackson's teams have gone 17-8 in Game 3s on the road when they have a 2-0 lead. With the Lakers, he has gone 6-3 with a 2-0 lead, eight of those Game 3s taking place on the road.

O'Neal had 11 of the Lakers' first 13 points, having his way against the single coverage of Kelvin Cato before the Rockets started double-teaming him and the Lakers stopped passing to him.

O'Neal took just one shot in the second quarter and missed it, and he picked up his second and third fouls late in the quarter and walked angrily to the bench.

Jim Jackson's 3-pointer with 8:48 left before halftime was the Rockets' fifth of the game, and another 3 by Jackson gave Houston its first double-digit lead, 49-39, with 3:19 left before halftime.

It was 56-43 at intermission, and it took O'Neal almost four minutes to get his first field goal since midway through the first quarter. The Lakers pulled to 62-56 on a 3-pointer by Gary Payton, but they never got any closer until 2:08 remained.

With Los Angeles trailing by 10 late in the third period, Bryant tossed up a 3-point shot with plenty of time remaining on the shot clock. It missed, and Lakers coach Phil Jackson shook his head in disgust as the teams went the other way. Taylor scored the final basket of the period to give Houston a 74-62 lead entering the fourth.

With Taylor providing the bulk of the offense, the Rockets were able to stay in front by at least six points throughout most of the fourth quarter. A leaning bank shot in the lane by Bryant made it 90-86, but Yao answered with a soft left-handed half-hook shot to start the decisive 7-0 run.
Today's Top News
Top Sports News

Two SARS cases confirmed, one died, virus from lab




Hu: Modernization needs long uphill battle




China condemns attack on consulate




N. Korea cites human error in crash




Wu urges US to loosen export controls




Alleged collegiate killer goes on trial