N. Korea cites human error in crash killing 154
(Agencies/Xinhua)
Updated: 2004-04-24 11:28
North Korea Saturday said that human "carelessness" contributed to the train blast that killed hundreds of people near the border with China, as international aid workers rushed to the site in response to the North's appeal for help.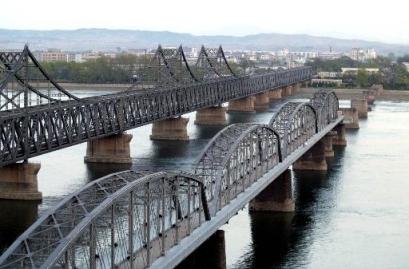 The China-North Korea Friendship Bridge, left, which carries rail and vehicular traffic to North Korea, at rear, is seen from the Chinese border city of Dandong Friday April 23, 2004. At least 54 people were killed, and over a thousand injured in a collision between two trains in the North Korean town of Ryongchon Thursday. North Korean leader Kim Jong Il passed through the town nine hours before the collision, after crossing the bridge from China. The bridge at right was partially destyroyed by U.S. bombing in 1950, during the Korean War. [AP]

In its first statement on Thursday's disaster, North Korea's official news agency said the blast was touched off by "electrical contact caused by carelessness during the shunting of wagons loaded with ammonium nitrate fertilizer."

The news agency for North Korea's government said that an investigation into the explosion at the railway station "so far shows that the damage is very serious."

The statement also expressed appreciation for offers of international humanitarian assistance. Those offers came in the hours after the government issued a rare appeal for foreign help, inviting aid workers to visit the disaster site.

U.S. defense officials said damage from the blast extended at least 200 yards from the explosion at a railway station in Ryongchon, a city with chemical and metalworking plants and a reported population of 130,000.

American intelligence analysts thought it was probably a coincidence that the blast happened nine hours after North Korean leader Kim Jong Il passed through the station on his way home from a three-day visit to Beijing.

U.S. State Department spokesman Richard Boucher said the United States is evaluating the situation in North Korea to see "if there is a need or an opportunity for the United States to help."

North Korean officials told diplomats and aid groups that more than 1,000 people were injured and thousands of apartments and houses destroyed or damaged in the blast.

They said many more could be trapped in collapsed buildings near the station. Red Cross workers were distributing tents and blankets to 4,000 families.

"In Pyongyang, we already hold out our hands to the world community," North Korea's Deputy U.N. Ambassador Kim Chang Guk told Associated Press Television News. He said Pyongyang was seeking "generous help from the world community."

He said he didn't have further details about the explosion.

"I don't know what really happened, but I think it is very serious because our government held out hand to the world community for help," he said in New York. "It means it is a great incident."

He said Ambassador Pak Gil Yon officially requested U.N. help Friday. A U.N. mission, accompanied by several aid agencies, was to arrive at the disaster site Saturday to assess humanitarian needs and offer immediate support, U.N. spokesman Fred Eckhard said.

China's U.N. Ambassador Wang Guangya urged the international community to respond to the rare call for help from North Korea.

"This is unusual for DPRK. So I think that the international community should be forthcoming, be positive in responding to their request," Wang said.

The British Broadcasting Corp. showed on its Web site what it said was a satellite photo taken 18 hours after the explosion. The black-and-white photo showed huge clouds of black smoke billowing from the site.

South Korea's Chosun Ilbo newspaper, citing a South Korean intelligence source, said a U.S. spy satellite photograph showed damage mostly in densely populated neighborhoods east of the station, which included buildings for the military and ruling Workers' Party.

"Hospitals are jam-packed with people injured," Chosun Ilbo quoted a Chinese witness as saying.

There was no sign in Dandong, a Chinese border city about 12 miles from Ryongchon, of injured North Koreans. But the city's three biggest hospitals were preparing for a possible surge of patients.

"We're ready to offer our close neighbor our best medical help anytime," said an official at Dandong Chinese Hospital.

In Seoul, the South Korean capital, Unification Minister Jeong Se-hyun said China was urging North Korea to send the injured to hospitals in China.

154 people killed, including 76 pupils

At least 154 people, including 76 pupils, have been killed in Thursday's train explosion at the Ryongchon railway station in North Phyongan province in the Democratic People's Republic of Korea (DPRK), Jang Song Gun, a senior official in charge of rescue efforts on the scene told Xinhua Saturday.

The blasts occurred at 12: 10 at noon on Thursday due to a short circuit when an electrical pole nearby was knocked down after an oil tanker collided with two carriages loaded with ammonium nitrate fertilizer during the shunting of wagons, Jang said.

The fire caused by the short circuit ignited the oil tanker and the chemicals, Jang added.

China to offer aid to DPRK for train accident

Chinese Ministry of Commerce announced here Saturday that the Chinese government decided to offer aid to the Democratic People's Republic of Korea (DPRK) for a train explosion.

The assistance valued at 10 million yuan (1.21 million US dollars) will be given to the DPRK side in a few days, which includes food, medicine, medical equipment and tents, sources said.

A massive explosion took place when two fuel-laden trains collided on Thursday afternoon near a DPRK station in Ryongchon.

To express sympathy to the DPRK people, the Chinese government decided to provide the assistance to the DPRK government for its rescue work, sources said.
Today's Top News
Top World News

Two SARS cases confirmed, one died, virus from lab




Hu: Modernization needs long uphill battle




China condemns attack on consulate




N. Korea cites human error in crash killing 154




Wu urges US to loosen export controls




Alleged collegiate killer goes on trial