China reports two diagnosed SARS cases
(chinadaily.com.cn)
Updated: 2004-04-23 20:58
Chinese Health Ministry spokesman confirmed Friday that East China's Anhui Province reported one diagnosed SARS case and one suspected SARS case.
Meanwhile, the suspected SARS case reported Thursday in Beijing was confirmed as a diagnosed one and the city reported one more suspected case Friday, the spokesman said.
Anhui reports 1 diagnosed case and 1 suspected case
A 26-year-old woman surnamed Song from Anhui Province has been confirmed as a SARS case, according to the ministry.
Song, a postgraduate in Anhui Medical University, studied at a laboratory of the institute of virus diseases under the Chinese Centre for Disease Control and Prevention in Beijing from March 7 to 22. She traveled by train between Beijing and Anhui from the end of March to early April.
On March 29, she went to see the doctor in Beijing's Jiangong Hospital and was hospitalized for pneumonia. On April 2, she returned to Anhui. She was then hospitalized in a local hospital for pneumonia.
The suspected case was Song's mother who accompanied Song since March 31. She, surnamed Wei, began to show symptoms of fever on April 8 and hospitalized in the First Hospital of the Anhui Medical University. On April 19, Wei's conditions worsened and eventually led to her death.
The provincial health authority reported this to the Ministry of Health on April 21. The ministry then sent a team expert to the province the next day, confirming Song as a diagnosed case and Wei as a suspected case.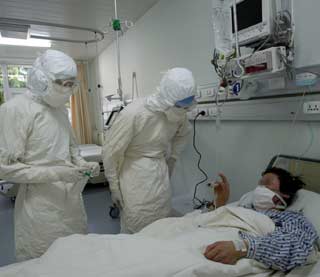 A suspected SARS patient surnamed Li talks with two doctors April 22, 2004 at Ditan Hospital in Beijing. She is 20 and works as a nurse in a Beijing hospital. [newsphoto]
Beijing
The diagnosed case in Beijing was a 20-year-old nurse with the Beijing Jiangong Hospital.
Li once took care of Song while Song received treatment in Beijing. And a 31-year-old man surnamed Yang was suspected of contracting the disease. Yang, a postdoctorate researcher in the Chinese Center for Disease Control and Prevention, worked in the same lab as Song in Beijing.
Yang developed fever on April 17 and was hospitalized on April 22. Based on the clinical features and results of the epidemiological investigation, the patient was diagnosed as a suspected case of SARS by Beijing health authorities, the ministry said.
The SARS cases may have resulted from laboratory infection, the ministry said.
The ministry said Li now has a normal temperature and five out of 188 people with close contact with her have developed fever. The five people were under medical observation at Beijing's Ditan Hospital.
The spokesman said the ministry has closed the institute under the national CDC, and put related persons under medical observation. Experts are making tests to trace the source of infection.
Today's Top News
Top China News

China reports two diagnosed SARS cases




N.Korea blast kills 54, injures 1,249




Japanese vehicle rams Chinese consulate




US urged to relax control on exports to China




Alleged collegiate killer goes on trial




Milk found bad in dead infant case