N.Korea blast kills 54, injures 1,249
(Agencies)
Updated: 2004-04-23 16:49
A blast believed to have been caused by explosives on rail wagons has killed 54 people and injured 1,249 people in North Korea, a Red Cross spokesman said on Friday.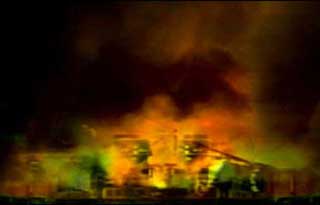 Two fuel trains collided and exploded at a North Korean train station reportedly killing thousands. [YTN]
John Sparrow, a regional delegation spokesman for the IFRC in Beijing, said 1,850 households were leveled by the blast near the centre of the town of Ryongchon, and another 6,350 homes were partly destroyed.
The number of casualties could climb as rescue crews combed through the rubble.
"That figure could increase, obviously," Sparrow said of the death toll after speaking to Red Cross officials at the scene of the accident.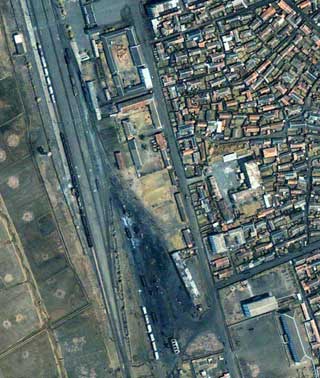 A satellite photo of the North Korean city of Ryongchon, also known as Yongchon, taken May 13, 2003 shows the train line running from the top left of the image to the bottom centre.[Reuters]
The disaster was caused by rail cars laden with explosives, possibly for mining, he said.

Two fuel trains collided at a North Korean railroad station near the Chinese border, igniting a deafening explosion that rained debris in a wide area around, according to earlier report. The report said as many as 3,000 people may have been killed or injured.
The Chinese Embassy to the North Korea on Friday has confirmed that two Chinese were killed and 12 others injured in the explosion.
Among the 12 injured Chinese, two sustained serious injuries and the rest 10 were lightly wounded. Twenty Chinese resident houses have collapsed and three Chinese houses were blown down in the train explosion.
The Chinese embassy has set up a special team to deal with the accident and will provide essential assistance to the victims.
North Korean leader, Kim Jong Il, had quietly passed by rail through the station as he returned from China before dawn some nine hours earlier. It was not clear what caused the crash.
But a South Korean official, quoted on condition of anonymity by South Korea's all-news cable channel, YTN, said it appeared to be an accident.
The collision reportedly took place about 1 pm in Ryongchon, a town 12 miles from China's Northeastern Liaoning Province. One train was carrying oil and the second had liquefied petroleum gas, media reported.
"The area around Ryongchon station has turned into ruins as if it were bombarded," Yonhap quoted witnesses as saying. "Debris from the explosion soared high into the sky and drifted to Sinuiju," a North Korean town on the border with China, it said.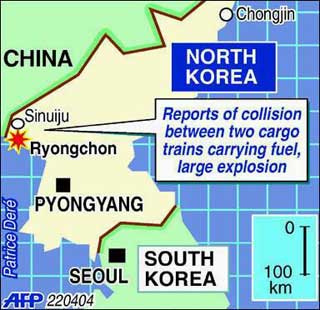 Map of North Korea indicating Ryongchon, where a blast at a railway station is said to have left 3,000 people dead or injured.[AFP]
The accident apparently resembled a disaster in Iran on February 18, when runaway train cars carrying fuel and chemicals derailed, setting off explosions that destroyed five villages. At least 200 people were killed.
The trunk line on which Thursday's accident reportedly occurred, the main rail link between China and North Korea, was first laid during the Japanese occupation more than 60 years ago.
Today's Top News
Top World News

Beijing reports suspected SARS case, China on alert




N.Korea blast kills 54, injures 1,249




Japanese vehicle rams Chinese consulate




US urged to relax control on exports to China




Alleged collegiate killer goes on trial




Milk found bad in dead infant case