Nets stop Knicks to take 3-0 series lead
(Agencies)
Updated: 2004-04-23 10:42
The Knicks managed to keep it competitive. The Nets were still the better team. Kenyon Martin ended a late offensive drought with a key three-point play in the final 30 seconds, and the New Jersey Nets outlasted a feisty effort from the Knicks to defeat New York 81-78 Thursday night for a 3-0 lead in their first-round series.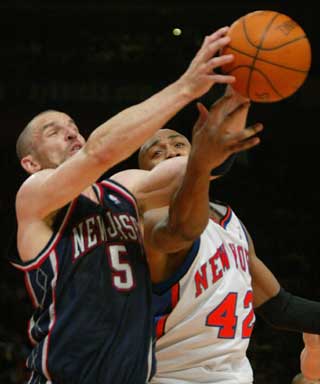 New Jersey Nets guard Jason Kidd (L) intercepts a pass to New York Knicks forward Vin Baker for a steal in the third quarter of Game 3 of their NBA playoff series at New York's Madison Square Garden, April 22, 2004. [Reuters]

After two days in which Tim Thomas and Martin took trash talk to new levels, the teams kept things clean and had the fans on their feet for the final several minutes of the first playoff game at Madison Square Garden in three years.

New Jersey scored just six points over the final 4 1/2 minutes, but it was still enough as New York couldn't come all the way back after trailing by as many as 14.

Game 4 will be Sunday, with the Knicks facing a task no NBA team has ever accomplished - coming back from a 3-0 deficit to win a seven-game series.

Martin led New Jersey with 19 points and 15 rebounds, Jason Kidd had 19 points, eight assists and seven rebounds, and Richard Jefferson had 17 points, 10 assists and eight rebounds.

Stephon Marbury scored 10 of his 18 points in the fourth quarter but shot just 7-for-23 for New York.

The atmosphere going into the game was unusually tense because of the verbal back-and-forth between Thomas and Martin that stemmed from a flagrant foul by Jason Collins in Game 1 that has kept Thomas sidelined since.

Thomas had called Martin a phony tough guy on Wednesday, and Martin took part in the Nets' morning practice wearing the back page of a newspaper with the headline "Whiny Tim" taped across his jersey.

Thomas, out with a bruised back, hip and ankle, sat out for the second straight game and spent the night on the end of the Knicks' bench. Martin, who also spent several minutes at practice insulting Thomas, seemed to relish the role of villain.

Kidd hit two 3-pointers and Martin finished a 3-on-2 break with a dunk to make it 65-53 in the third quarter - Martin drawing boos from the crowd as he strutted backward down court.

Marbury finally had his first second-half basket of the series early in the fourth quarter, and the Knicks pulled to 75-71 with 3:45 left before coming up empty on their next two possessions - one of which was a missed layup by Marbury as he was tightly defended.

Marbury came off a pick to hit a 20-footer with 2:09 left to make it a two-point game, and Martin missed two foul shots 19 seconds later.

Jefferson gave the Nets a four-point lead before Penny Hardaway's 3-pointer made it 77-76 with 42 seconds left. The Knicks then nearly forced a turnover, but the ball ended up in Martin's hands and he scored over Kurt Thomas - drawing a foul in the process - for a three-point play and an 80-76 lead.

Kidd missed the second of two free throws to leave the score 81-78 with 18 seconds left, and Marbury was fouled behind the 3-point line with 3 seconds remaining as he attempted to throw a pass.

He went to the line and came up short on his first attempt, then missed the second intentionally only to have the Nets grab the rebound. Jefferson held the ball high in the air as the game ended.

Early on, it looked as though this game would get away from the Knicks as quickly as the first two had. New York didn't score its first point until more than 3 1/2 minutes had elapsed, and the two players who accounted for the Knicks' first 10 points - Kurt Thomas and Nazr Mohammed - each went to the bench with two fouls midway through the quarter.

The Nets led 25-15 after one quarter, but the Knicks worked their way back while Kidd, Martin and Jefferson rested. Kurt Thomas, playing despite three fouls, hit a jumper to give the Knicks their first lead, 34-33 with 4:26 left, and Shandon Anderson drew a huge cheer when he flagrantly fouled Jefferson on a fast-break layup attempt. It was 40-40 at halftime.
Today's Top News
Top Sports News

Beijing reports suspected SARS case, China on alert




Report: N. Korea train crash kills thousands




Japanese vehicle rams Chinese consulate




US urged to stop Taiwan arms sales




Alleged collegiate killer goes on trial




Milk found bad in dead infant case