Soccer's Maradona responding well to meds
(Agencies)
Updated: 2004-04-23 10:00
Diego Maradona is responding well to treatment for heart problems and a lung infection, and doctors are considering whether to remove him from a respirator.
The 43-year-old soccer great was sedated Thursday, receiving antibiotics for pneumonia while doctors also treat a heart inflammation. They have said for days his prognosis is guarded.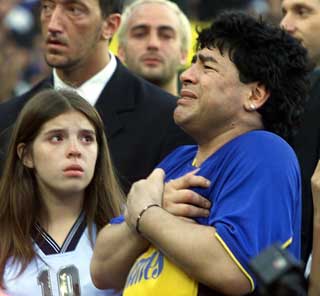 A file photo shows Diego Maradona crying while walking around the playing field with his daughter Dalma after his farewell match attended by more than 50,000 fans that filled the Boca Juniors' Bombonera Stadium in Buenos Aires, November 10, 2001. Maradona remained in intensive care in a Buenos Aires hospital early April 20, 2004, more than 36 hours after falling ill with heart and breathing problems while watching a game at his former club Boca Juniors' stadium where he made his name.[Reuters]

His medical team will evaluate whether to take him off the respirator during the next 24 hours, hospital officials said in a statement.

"I'm happy that my father is getting a little better every day," said Dalma Nerea, 17, the oldest of Maradona's two teenage daughters.

Maradona, who led Argentina to the 1986 World Cup title, was admitted to the Suizo-Argentina Clinic on Sunday because of chest pains.

Authorities said the emergency hospitalization was not drug-related. Maradona has been undergoing drug rehabilitation in Cuba for cocaine abuse.

Maradona was suspended from the Italian league while playing for Napoli in 1991 for 15 months following a positive test for cocaine.

Three years later, FIFA suspended him for 15 months because of a positive test at the World Cup in the United States. He retired from pro soccer in 1997.
Today's Top News
Top Sports News

Beijing reports suspected SARS case, China on alert




Report: N. Korea train crash kills thousands




Bush vows to sticks to one-China policy




US urged to stop Taiwan arms sales




Alleged collegiate killer goes on trial




Milk found bad in dead infant case