Alleged collegiate killer sentenced to death
(China Daily)
Updated: 2004-04-23 00:00
Ma Jiajue, a college student who allegedly killed four of his schoolmates in February, is convicted and sentenced to death Saturday in the Kunming Intermediate People's Court in South West China's Yunnan Province.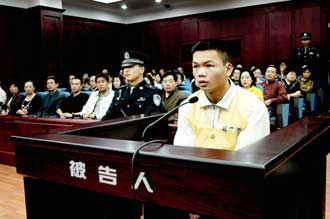 Ma Jiajue stands trial in a Kunming court April 22, 2004 for allegedly killing four classmates. [Xinhua]
Ma was also deprived of his political rights for life for killing four fellow college students.
With the youthfulness of the students involved, the murder case has attracted nationwide attention, with experts and ordinary people heatedly discussing why a college student could be so cruel to his schoolmates.
Ma's parents and the families of the four victims have all arrived at Kunming, the provincial capital, according to local media reports.
One victim's parents said they would give up demands for compensation. But parents of the other three victims have asked for 820,000 yuan (US$99,000).
The four victims were found in a dormitory in Yunnan University on February 23, all with deadly injuries consistent with a blunt metal object.
The court did not mete out the verdict Thursday.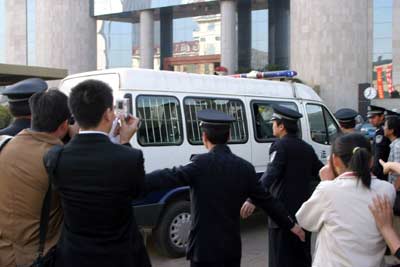 The van carrying Ma Jiajue, a Yunnan University undergraduate suspected of killing his four roommates in February, arrives at the court April 22, 2004 in Kunming, capital of Southwest China's Yunnan Province. The Kunming Intermediate Court began trying the case April 22, 2004. [newsphoto]

Ma, a fourth-year student at Yunnan University, who is from a poor family in the Guangxi Zhuang Autonomous Region, was later listed as a chief suspect.

The Ministry of Public Security offered a 200,000 yuan (US$24,000) reward for information leading to his apprehension. Ma's photo was posted across the country.

He was finally captured on March 15 in Sanya, South China's Hainan Province, after a tip-off from a local resident. Two days later Ma was transported by authorities back to Kunming.

The Kunming People's Procuratorate announced Ma would be prosecuted on murder charges on April 6.

It was reported that Ma confessed to the crime, but that has not been stated yet in court. All four victims were acquaintances of Ma's.
Today's Top News
Top China News

Two SARS cases confirmed, one died, virus from lab




Hu: Modernization needs long uphill battle




China condemns attack on consulate




Alleged collegiate killer sentenced to death




N. Korea cites human error in crash killing 154




Wu urges US to loosen export controls