Milk found bad in dead infant case
(China Daily)
Updated: 2004-04-23 00:00
A joint State investigative team Thursday revealed its first report into the deadly milk powder incident that claimed the lives of 13 babies and sent more than 170 to hospitals, finding dozens of milk powder companies in eight provinces have been producing substandard milk.
The team, led by the State Food and Drug Administration, inspected 205 varieties and 149 brands of milk powder produced by 141 companies, seen on the market in Fuyang, Central China's Anhui Province.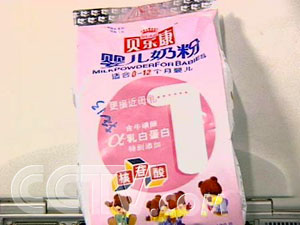 The killing milk powder.(Photo: CCTV)
They found 55 kinds of milk powder produced by 46 companies located in eight provinces, municipalities or autonomous regions were substandard.
Most of the unqualified products did not meet the requirement for 12 per cent of the milk to contain protein.
Thirty-one kinds of the products contained less than 5 per cent of protein. One of them had only 0.37 per cent, the report said.
The team went to Fuyang again last night to continue its investigation.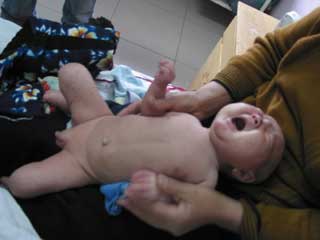 A baby suffers from malnutrition after drinking cheap milk powders. [Xinhua]
According to the report of another team sent by the Anhui provincial government, 17 of the 45 substandard milk powders it found came from Northeast China's Heilongjiang Province, seven from the Inner Mongolia Autonomous Region, and the rest from Zhejiang, Shanghai, Beijing, Shandong, Hebei, Hubei and Jiangxi.
Five wholesalers suspected of distributing substandard or fake milk powders in Fuyang had been arrested by local police by Wednesday night.
Two suspects have confessed to police, and revealed the channels from which they received their substandard products. Interrogations are still under way, according to the Legal Daily.
The local government has decided to treat all still-ill babies at no cost,and pay families of each deceased victim aid of 10,000 yuan (US$1,200).
The powders containing little nutrition that caused infant deaths in Fuyang targeted mainly rural areas or a low-end market.
Many of the babies showed classic signs of malnutrition, including swollen heads and stomachs.
Today's Top News
Top China News

Bush vows to sticks to one-China policy




Suspected SARS case found in Beijing




US urged to stop Taiwan arms sales




Alleged collegiate killer goes on trial




Milk found bad in dead infant case




NPC official solicits HK's views on report