China reports two diagnosed SARS cases
By Zhang Feng (China Daily)
Updated: 2004-04-23 00:00
Chinese Health Ministry spokesman confirmed Friday that east China's Anhui Province reported one diagnosed SARS case and one suspected SARS case.
Meanwhile, the suspected SARS case reported Thursday in Beijing was confirmed as a diagnosed one and the city reported one more suspected case Friday, the spokesman said.
Anhui reports 1 diagnosed case and 1 suspected case
A 26-year-old woman surnamed Song from Anhui Province has been confirmed as a SARS case.
Song, a postgraduate in Anhui Medical University studied in the Chinese Centre for Disease Control and Prevention in Beijing from March 7 to 22. She traveled by train between Beijing and Anhui from the end of March to early April.
On March 29, she went to see the doctor in Beijing's Jiangong Hospital and was hospitalized for pneumonia. On April 2, she returned to Anhui. The patient was then hospitalized in a local hospital for pneumonia.
The suspected case was Song's mother who accompanied Song since March 31. She began to show symptoms of fever on April 8 and hospitalized in the First Hospital of the Anhui Medical University. On April 19, Wei's conditions worsened and lead to her death.
The provincial authority reported this to the Ministry of Health on April 21. The ministry sent a team expert to the province the next day, confirming Song as a diagnosed case and Wei as a suspected case.
Beijing
The diagnosed case in Beijing was a 20-year-old nurse with the Beijing Jiangong Hospital.
Li once took care of Song while Song received treatment in Beijing.
Five people who had close contact with her have shown some SARS symptoms, such as fever, have been quarantined.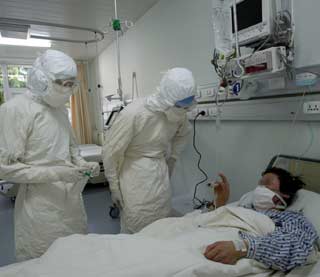 A suspected SARS patient surnamed Li talks with two doctors April 22, 2004 at Ditan Hospital in Beijing. She is 20 and works as a nurse in a Beijing hospital. [newsphoto]
A total of 171 people who have had close contact with the girl have been identified and put under medical observation.
The nurse, surnamed Li, and the other people with fever are being treated in Beijing's Ditan Hospital, which specializes in infectious diseases.
Since April 5, she has had a fever, coughing and other symptoms. She has been at the Jiangong Hospital, in Xuanwu District, Beijing, since April 7. Jiangong Hospital is a non-State-owned hospital near the Chinese Centre for Disease Control and Prevention.
On April 14, she was transferred to the Intensive Care Unit of the Renmin Hospital affiliated with Peking University, which neighbours the Ministry of Health in Xicheng District.
Two days later, two relatives who accompanied the patient reported a fever so the hospital moved to put in place the early warning system for SARS.
The nurse was then moved to Ditan Hospital.
SARS virus antibodies were detected in her blood Thursday morning by Beijing's CDC. The discovery provides clinical evidence to label the case as suspected SARS, said Mao Qun'an, spokesman for the Ministry of Health.
"Epidemiology investigation of the possible SARS virus source, and further laboratory tests, such as virus separation from her body, are being done now, which are necessary to prove whether she is a confirmed SARS case," Mao told China Daily Thursday evening.
No report has been provided to show she has had contact with possible SARS virus sources, such as wild animals.
However, experts suspected that she might have become infected with the virus while caring for some SARS cases that have not been identified.
It is possible that she was identified as a suspected SARS case earlier than people she may have treated, said an expert who refused to give his name.
Strict disinfection measures have been taken by the three hospitals which have had contact with the nurse.
China On Alert
The Ministry of Health held an emergent teleconference Thursday night after the announcement of one suspect SARS case in Beijing, making detailed actions to prevent the spread of severe acute respiratory syndrome.
The ministry asked local health authorities to enhance SARS preventative measures and spare no efforts to prevent hospital infection and protect the safety of health workers.
Starting Friday, the Ministry of Health will begin to report the latest developments at 4 pm every day.
Strict epidemiological investigations were also required by the ministry.
The investigations should trace the activities of a patient in the last 20 days after the onset of disease and all the death as well as pneumonia cases with no clear causes happening twenty days in the hospital since a SARS-related patient is hospitalized should be investigated, the ministry said.
The ministry also asked hospitals to enhance observation to fever patients and deliver daily report on the death and pneumonia cases which had with no clear causes.
Meanwhile, the World Health Organization (WHO) China Office suggested the public "be sensible" to the possible reoccurrence of SARS, but "do not over react".
From a public health standpoint, the first step is to confirm the cases, trace their contacts and make sure more people do not become infected, Dietz said. "China has a lot of experience in this and we are sure they will respond promptly and effectively."
Bob Dietz said the fact that a suspect case was spotted early and reported is encouraging. "There is no cause to expect that China will not be able to contain this round of SARS just as it did the small outbreak in Guangdong in December and January."
He said WHO might send an expert team to China if the Chinese government requests help, "but China is capable of dealing with SARS".
News of the suspected case spread quickly since Thursday morning. However, no wide panic has been stirred.
This is the first suspected SARS case since the epidemic, which has seriously attacked the capital city last year, subsided in June.
The virus infected 5,327 people and killed 348 people last year.
Several people were infected in Guangdong earlier this year but there were no deaths.
Today's Top News
Top China News

China reports two diagnosed SARS cases




N.Korea blast kills 54, injures 1,249




Japanese vehicle rams Chinese consulate




US urged to relax control on exports to China




Alleged collegiate killer goes on trial




Milk found bad in dead infant case