Bush vows to sticks to one-China policy
(China Daily)
Updated: 2004-04-22 22:41
The United States sticks to the one-China policy, President George W. Bush told visiting Chinese Vice-Premier Wu Yi at the White House on Wednesday.
Bush told Wu that there is no change in the position he stated about the Taiwan issue when he met with Chinese Premier Wen Jiabao in the White House on December 9, 2003.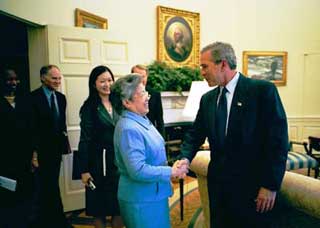 Bush meets with Wu Yi. [Xinhua]
"We oppose any unilateral decision by either China or Taiwan to change the status quo, and the comments and actions made by the leader of Taiwan indicate that he may be willing to make decisions unilaterally to change the status quo, which we oppose," Bush said during a joint appearance with Wen at that time.
In his meeting with Vice-Premier Wu, President Bush also said he was pleased with the positive outcome of the 15th session of the China-US Joint Commission on Commerce and Trade (JCCT), a bilateral consultation mechanism set up in 1983 to deal with trade and commerce issues between the two countries.
Bush said the US recognizes the importance of economic and trade co-operation to the relationship between the two countries, and hopes to further expand trade with China and bring more benefit both countries through continuous development of bilateral economic and trade relations.
Wu, who co-chaired the one-day JCCT meeting on Wednesday with US Secretary of Commerce Donald Evans and Trade Representative Robert Zoellick, said China is pleased with the progress made in Sino-US relations in recent years.
She urged the US side to exercise prudence in handling the Taiwan issue and abide by its commitments in the three joint communiques to ensure steady progress in the Sino-US relationship.
Wu said there is great potential for economic and trade co-operation between China, the biggest developing country in the world, and the United States, the biggest developed country.
Both sides should always treat the relationship from a strategic and long-term perspective and in the spirit of mutual respect while seeking common ground, she said.
The two sides should also address each other's concerns and broaden common interests through more exchanges and co-operation, Wu added.
The Chinese vice-premier expressed the hope that the United States will soon recognize China's market economy status and lift its export restrictions on high-tech products to facilitate development of economic and trade relations.
The success of the just-concluded JCCT consultation is the result of common efforts, she said. It is another testimony that China and the United States can settle economic and trade issues properly and further advance their co-operation if both sides show mutual understanding and are willing to compromise, Wu added.
Meanwhile, senior officials from China and the United States on Wednesday signed eight documents designed to boost economic and trade relations.
Chinese and US officials also agreed to set up six working groups within the framework of the JCCT, a mechanism established in 1983, to deal with issues such as China's market economy status, trade remedy measures and protection of intellectual property rights.
"The meeting proved to be a complete success," Wu said at a joint press conference after the talks.
She said China attaches great importance to its relationship with the United States, and economic and trade ties are an important part of the relationship.
China and the United States have become each other's major trading partners and complement each other greatly, she noted.
Economic and trade co-operation between China and the United States is not a zero-sum game but a win-win relationship of mutual benefit, Wu said, adding that the Chinese side is prepared to work with the United States to advance such co-operation in various fields through better communication and mutual understanding.
Wu said it is not unusual that some trade disputes or friction have appeared during the rapid development of Sino-US economic and trade relations.
What is important, she stressed, is that both sides treat and handle these issues from a strategic and long-term perspective and show mutual understanding and compromise to avoid the politicization of pure economic and trade issues.
Today's Top News
Top China News

Bush vows to sticks to one-China policy




Suspected SARS case found in Beijing




US urged to stop Taiwan arms sales




Alleged collegiate killer goes on trial




Milk found bad in dead infant case




NPC official solicits HK's views on report