Bryant defense barred from medical records
(Agencies)
Updated: 2004-04-22 09:27
The judge in the Kobe Bryant case dealt a blow to the defense Wednesday, barring access to the medical records of the 19-year-old woman accusing the NBA star of rape.
Judge Terry Ruckriegle said no witness during three hearings had convinced him that the woman had waived her confidentiality rights by telling others about her medical conditions and treatment.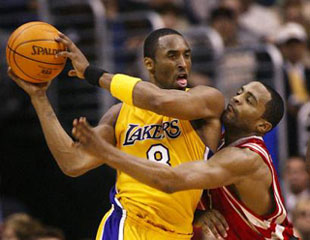 Los Angeles Lakers' Kobe Bryant, left, tries to keep the ball away from Houston Rockets' Steve Francis during Game 2 of the first-round NBA Western Conference Playoffs, Monday, April 19, 2004, in Los Angeles. The Lakers won 98-84. [AP]

Ruckriegle also threw out defense subpoenas seeking records from three health care providers.

Bryant faces four years to life in prison or 20 years to life on probation if convicted of felony sexual assault. The Los Angeles Lakers star has said he had consensual sex with the woman last summer at the Vail-area resort where she worked.

The judge acknowledged the woman had discussed her conditions and treatment in general terms with friends and relatives, but said he believed it was clear she had no intent to waive confidentiality.

"The victim never revealed the specific nature of her medical treatment, the substance of her conversations with the medical providers nor other confidential details of her condition and medical treatment," the judge wrote.

Ruckriegle also rejected defense arguments that the woman waived privacy rights by talking with Eagle County sheriff's Detective Doug Winters, who interviewed her shortly after the alleged assault.

The woman's attorney, John Clune, declined to comment. Defense attorney Hal Haddon did not return a call, and prosecution spokeswoman Krista Flannigan said only that prosecutors were pleased.

Bryant's attorneys have said in court filings they believe the woman's medical records could undermine her credibility and demonstrate she had a "scheme" to falsely accuse the Lakers star. They say she twice attempted suicide in the months before meeting Bryant, and had been prescribed anti-depressant and anti-psychotic drugs.

Prosecutors have argued that none of the information contained in her medical records is relevant to whether she consented to sex with Bryant.

Analysts said the ruling was not surprising, considering strong state laws protecting confidentiality and a 2002 Colorado Supreme Court ruling that told judges they cannot review medical records ¡ª even behind closed doors ¡ª without consent.

"This is definitely an important victory for people who get medical treatment that don't want to lose the privilege just because they've decided to talk to other people or confide in family and friends for support," said Karen Steinhauser, a former prosecutor and visiting professor at the University of Denver law school.

Larry Pozner, past president of the National Association of Criminal Defense Lawyers, said the defense still can seek testimony from people who have direct knowledge about the woman's purported suicide attempts and prescription drug use.

"The defense has a bathtub full of evidence on her suicide attempts that is not in the medical records ¡ª it's just plain old-fashioned (eyewitness) testimony," Pozner said.
Today's Top News
Top Sports News

North Korea's Kim agrees to push forward 6-party talks




Kelly: Take Beijing's resolve seriously




Sino-Russian military ties deepened




Fake milk powder wholesale dealers detained




FBI boss sees US-Sino collaboration




Tranquilizers fed to baby girl by nurse