Fake milk powder wholesale dealers detained
(Xinhua)
Updated: 2004-04-22 08:45
Police in Fuyang City of east China's Anhui Province has detained five principal wholesale dealers who sold substandard milk powder that led to the death of 13 infants.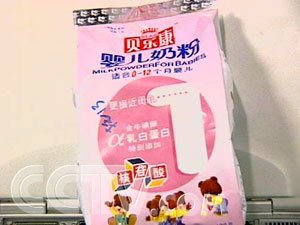 The killing milk powder.(Photo: CCTV)


Two wholesale dealers, named Ma Lanhua and Liu Biao, have revealed the places where they had bought the milk powder.

During a raid on milk powder markets in Fuyang City, the industrial and commercial department found 42 cases of substandard milk powder.

The inspection showed 45 types of substandard milk powder were sold on the retail market in Fuyang City. They were produced by 141 factories Heilongjiang, Zhejiang, Shandong, Hebei, Hubei and Jiangxi provinces, Beijing and Shanghai municipalities and Inner Mongolia Autonomous Region. The products are sold in 149 brands.

The local government is working hard to find the source of inferior milk powder.

Victims to be compensated

The families of babies who died of nutritional deficiencies from consuming substandard milk powder will be given compensation of 10,000 yuan (US$1,204), according to a decision made by the Fuyang City Government Wednesday.

A baby suffers from malnutrition after drinking cheap milk powders. [Xinhua]
Sick infants still being treated at hospital will be exempted from all medical charges, which will be shared by the local government and the relief sector, the decision said.
The medical department in Fuyang City is mobilizing medical experts to help the sick babies.
According to hospitals at or above the county level in Fuyang, since May last year, 171 infants suffered from malnutrition after being fed with milk powder deficient in protein and other nutrients. The majority of them live in rural areas in Fuyang City. The parents bought cheap milk powder which contained little nutritional ingredients at rural shops in Fuyang.
Thirteen infants have died, with a mortality of 7.6 percent. Of the total, 155 were in Fuyang City, where 12 of the deaths occurred.
The Fuyang Consumers' Association has received 19 complaints and determined compensation of 81,200 yuan (US$9,783).
Today's Top News
Top China News

DPRK's stance unchanged on 6-party talks




Kelly: Take Beijing's resolve seriously




Sino-Russian military ties deepened




Fake milk powder wholesale dealers detained




FBI boss sees US-Sino collaboration




Tranquilizers fed to baby girl by nurse