Maradona stays on respirator in hospital
(Agencies)
Updated: 2004-04-22 08:33
Diego Maradona remained on a respirator in intensive care Wednesday, three days after the soccer great was hospitalized with heart and lung problems.
Maradona has pneumonia and was being treated with antibiotics to fight a lung infection, the Suizo-Argentina Clinic said. His condition was still listed as "guarded prognosis."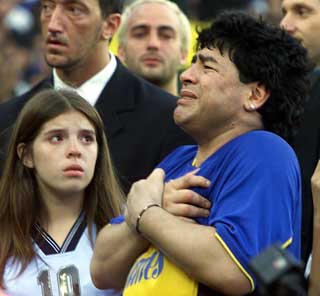 A file photo shows Diego Maradona crying while walking around the playing field with his daughter Dalma after his farewell match attended by more than 50,000 fans that filled the Boca Juniors' Bombonera Stadium in Buenos Aires, November 10, 2001. Maradona remained in intensive care in a Buenos Aires hospital early April 20, 2004, more than 36 hours after falling ill with heart and breathing problems while watching a game at his former club Boca Juniors' stadium where he made his name.[Reuters]

The 43-year-old Maradona looked pale and overweight during his last appearance Sunday at a soccer stadium in Buenos Aires. He was rushed to the private clinic hours after the game, complaining of chest pains and breathing problems.

His doctors say the emergency hospitalization was not drug-related, but have not commented on what prompted Maradona to enter the hospital.

Maradona, who led Argentina to the 1986 World Cup title, has been undergoing drug rehabilitation in Cuba for cocaine abuse.

Dr. Alfredo Cahe, Maradona's personal physical, has suggested Maradona could be in for a long hospital stay. He refused to elaborate further Wednesday, leaving the hospital without comment just before the latest medical update was released.

Authorities bolstered security around the fourth-floor treatment area where Maradona reportedly was being monitored. A crowd of about 200 people gathered by the front doors in an outpouring of support for the man many consider the country's greatest sports hero.

Many lit candles, taped posters of a youthful Maradona to the marbled entryway to the clinic, or raised banners wishing him well. "Diego, you are immortal!" some chanted in the crowd as motorists crawled past the clinic in snarled traffic.

Maradona's hospital visitors have been restricted to his closest family, including his former wife, Claudia, and his daughters, Giannina and Dalma Nerea.

The hospital entrance took on the feel of a soccer stadium. Fans of Maradona's Boca Juniors squad chanted slogans and raised banners in the blue and yellow team colors. "Ole! Ole! Ole! Diego! Diego!" they chanted.

Some motorists honked horns on the boulevard out front, where six lanes were reduced to two at one point. The chants and drum-beating got so loud late Tuesday that the clinic issued a statement asking for silence.
Today's Top News
Top Sports News

DPRK's stance unchanged on 6-party talks




Kelly: Take Beijing's resolve seriously




Suspected fake milk producers investigated




FBI boss sees US-Sino collaboration




Sino-Russian military ties deepened




Tranquilizers fed to baby girl by nurse