Severe punishment vowed for fake milk powder producers
By Wang Ying (China Daily)
Updated: 2004-04-21 22:50
Chinese Premier Wen Jiabao Thursday ordered severe punishment for the people responsible in the fake milk powder cases, which left 13 babies dead, and a public release of the investigation results.
Wen said the State Council had sent a special investigation team to the Fuyang City of east China's Anhui Province, where the rampant sales of inferior milk powder had caused malnutrition and deaths among babies, to find out the sources and purchase channels of the fake goods.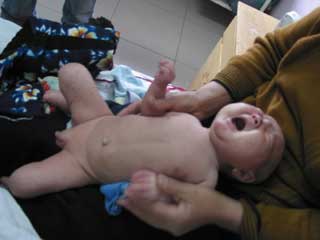 A baby suffers from malnutrition after drinking cheap milk powders. [Xinhua]
He called on related departments to intensify supervision over the quality of food and drugs, hoping to reassure the public of a secure and healthy consumption environment.
According to the latest news from the State Administration for Industry and Commerce, the substandard milk powder deficient in protein and other nutrients has made 171 infants suffer from malnutrition. 13 infants have died and three are still being treated in hospital.

Suspected fake milk producers investigated
Two Beijing milk powder producers are under investigation, suspected of manufacturing "deadly" milk powder which led to the deaths of dozens of babies in Anhui Province.
Milk powder products of the two companies -- Beijing Wei'er Diary in Huairou District and Beijing Bei'erkang Diary in Pinggu District -- have been taken off the shelves and temporarily seized.
Samples from the two companies are being checked and the results will be delivered soon, officials with the Beijing Health Supervisory Office told China Daily Wednesday.
Beijing started a 10-day campaign targeting low-quality diary products, aimed at keeping fake milk powder out of the city.
Officials suspect cheap milk powders are produced in North China's Inner Mongolia Autonomous Region, Northeast China's Heilongjiang Province and Beijing.
Powders with little or no nutritional value have spread around the villages of Fuyang, in East China's Anhui Province. Dozens of babies have died due to malnutrition after being fed the fake powders.
Residents of Fuyang call the illness that has spread around their village "big head disease."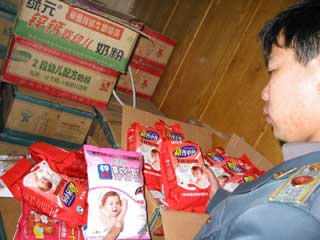 A market law enforcer checks the beautifully-packed milk powders that contain little or no nutrition at all in Fuyang, Anhui Province April 20, 2004. [Xinhua]
It is a form of severe malnutrition in recently-born babies symptomized by the head growing proportionally larger than the body. Officials believe the deaths were caused by milk powder that did not meet basic nutritional standards.
Bans on milk powders which failed to reach the national standard of protein content for infant milk powder -- at least 10 per cent -- are in place in Fuyang of Anhui.
Some 32 brands of milk powder have been put on a "black list" by Fuyang Bureau of Industry and Commerce.
Local law enforcement specialists have seized more than 6,100 bags of fake milk powder in the past several days.
Some of them have only 1 per cent of protein, providing almost no nutrition for babies' growth, health experts said.
Anhui provincial government officials have urged local hospitals to provide best treatment possible to babies suffering from "big head disease" and help lower the chances of more deaths.
The provincial government has confirmed that at least 13 babies have died of severe malnutrition in Fuyang since 2003. However, local media pegged that number at more than 50.
More than 170 infants in the area around Fuyang, mostly between three and five months old, have been affected, officials said.
Food security is a serious problem in rural areas, said Xia Jiechang, an economics professor with the China Academy of Social Sciences.
"Rural areas have become the biggest distribution centres for low-quality and counterfeit goods, where supervision is slack and information is insufficient," Xia said.
News of the fake milk powder has drawn widespread attention in the past few days.
Many other provinces including Sichuan and Henan have also launched overhauls of their milk powder and dairy product markets to wipe the fake powder out of the market.
Premier Wen Jiabao has vowed a thorough investigation and severe punishment for those who produced the milk powder.
Today's Top News
Top China News

China, US reach deals on a variety of trade issues




Beijing reports one suspected SARS case




Fake milk powder wholesale dealers detained




Kim agrees to push forward 6-party talks




Sino-Russian military ties deepened




Kelly: Take Beijing's resolve seriously