Sino-Russian military ties deepened
By Hu Xiao (China Daily)
Updated: 2004-04-21 22:39
China and Russia will firmly adhere to their established strategic co-operative partnership which will benefit both countries and stability and peace in the world at large, say leaders from both countries.
This message was reflected during meetings between visiting Russian Defence Minister Sergei Ivanov and Chinese leaders.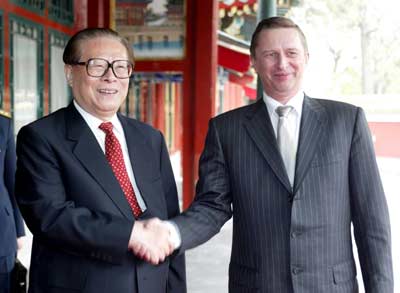 Jiang Zemin meets with Sergei Ivanov. [Xinhua]
Chairman of the Central Military Commission of Communist Party of China Jiang Zemin said Wednesday that commitments made by the two countries to develop their friendship from generation to generation is a serious one and aimed at safeguarding world peace.
Ivanov reaffirmed that developing relations with China is Russia's objective.
On bilateral relations, both sides vowed to work towards fully implementing the Sino-Russian Good-Neighbourly Treaty of Friendship and Co-operation for healthy and stable development in the new century.
Ivanov said both countries should enhance co-operation in all fields.
Russia's good-neighbourly policy towards China is a strategic and historical choice, and will be continued, he said.
During talks with his Chinese counterpart Cao Gangchuan, Ivanov expressed his satisfaction on bilateral military ties.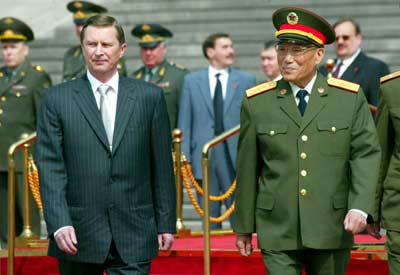 Cao Gangchuan and Sergei Ivanov. [newsphoto]
The two also exchanged views on hot regional and international topics, such as anti-terrorism, according to an official Russian source.
While Ivanov is in Beijing, Foreign Minister Li Zhaoxing is visiting Russia.
China and Russia hold "identical or similar positions" on all key international issues, are developing their trade, and have a tight 2004 schedule for political contacts, said Li before his departure.
He arrived in Moscow Wednesday for a three-day visit and will attend a regular meeting of foreign ministers of members of Shanghai Co-operation Organization, an influential regional and multilateral co-operative organization.
Russia said that President Vladimir Putin will come to China this year for his third state visit and will hold "an in-depth exchange of opinions'' with Chinese leader Hu Jintao "on the further deepening of bilateral co-operation," according to Interfax.
Li also said China wants the international community to develop a "comprehensive strategy" for combating terrorism.
Today's Top News
Top China News

DPRK's stance unchanged on 6-party talks




Kelly: Take Beijing's resolve seriously




Sino-Russian military ties deepened




Fake milk powder wholesale dealers detained




FBI boss sees US-Sino collaboration




Tranquilizers fed to baby girl by nurse