Blasts hit Riyadh, Basra; dozens killed
(Agencies)
Updated: 2004-04-21 15:54
At least 10 people were killed and dozens more wounded when a car bomb destroyed a Saudi security service building in the capital Wednesday, witnesses said.
Officials in Riyadh described it as a "terrorist attack'' and Arab television said the body of suicide bomber was found. One Saudi source said five car bomb attempts had been foiled in the past week but this, the sixth, slithered past tight security.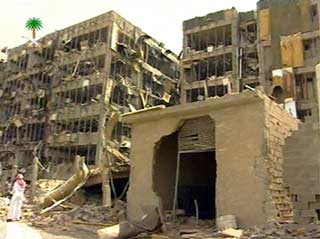 Saudi state television showed an entire government building wrecked after a car bomb rocked the capital Riyadh on Wednesday.[Reuters]
"The front of a building is blown off and smoke is still rising,'' a Reuters correspondent said from outside the building, which included administrative offices for security forces.
People said they saw 10 bodies and dozens of wounded being carried into ambulances from the site. Fires raged long after the blast, which left a deep crater and a street carpeted with debris from the shattered six-storey structure.
"We believe it is a terrorist attack,'' a Saudi Interior Ministry source said. He said a car packed with explosives blew up in al-Murabaa district.
The kingdom, a key US ally and the world's largest oil exporter, is battling a tide of Islamist militancy linked to Saudi-born Osama bin Laden's al-Qaida network.
Last week, the United States ordered non-essential diplomats out of the Gulf state and warned Americans they should leave. US officials cited fresh signals of possible attacks on American and Western interests.
Suicide bombings at foreign residential compounds in Riyadh killed 50 people last year, including nine Americans.
Ambulances rushed toward the site of yesterday's blast and smoke billowed from damaged buildings in the area, which also house state television and the Information Ministry.
The explosion gouged a deep crater in the road where dozens of blackened and twisted cars still smouldered.Shards of broken glass and concrete blocks were strewn on the tarmac. Security forces cordoned off the area. Firefighters battled raging flames. Dubai-based Arab satellite television channel Al Arabiya said a suspected suicide bomber was killed in the devastation.
Saudi Arabia last week defused five cars rigged with explosives in Riyadh, security sources said. Suspected Muslim militants also killed at least five Saudi policemen last week.
"We succeeded in preventing five like this but this one got through,'' the Interior Ministry source said.
Since Monday, police have been hunting a group of militants after battles in which they also fired rocket-propelled grenades at police. The same group is believed to have killed four police officers at checkpoints.
Last week, one of Saudi Arabia's most-wanted al-Qaida militants, in a video carried on an Islamist Website, called on Muslims to kill Americans everywhere and vowed to make attacks on Arab leaders allied to Washington.
Saudi Arabia has blamed last year's bombings at Riyadh residential compounds on al Qaeda, which Washington accuses of the September 11 attacks on the United States three years ago.
American officials have praised recent Saudi efforts against militants, a contrast to earlier disquiet at perceived tolerance for radical Islam in Saudi Arabia -- 15 of the 19 suspected hijackers on September 11, 2001, were Saudi nationals.
Bin Laden, whose Saudi citizenship was revoked by the kingdom, has often branded the its rulers traitors to Islam and US "infidel agents.''
Blasts rip Iraq police stations, kill 68
A series of explosions ripped through three police stations and a police academy in the southern Iraqi city of Basra Wednesday, killing at least 68 people, including some 10 schoolchildren, and injuring at least 240, officials said.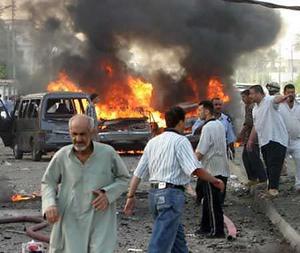 Rescuers rush to the scene of one of three car bomb explosions in the southern Iraq city of Basra April 21, 2004. [Reuters]

Three near simultaneous blasts targeted police stations at rush hour in Basra. At about the same time, a fourth explosion ripped through the police academy in the Basra suburb of Zubair. An hour later another blast targeted the same police academy.

The injured included two British soldiers at the police academy, Maj. Hisham al-Halawi, spokesman for British forces in Basra, told Al-Arabiya television.

The attacks came a day after Iraqi leaders named a tribunal of judges and prosecutors to try Saddam Hussein, placing a longtime opponent of the ousted dictator in the forefront of the case against him and his former Baathist inner circle.

At one station in the Saudia district of Basra, four vehicles were seen destroyed including two school vans that were passing that station at the time of the attack. One was carrying students from a girls' middle school and the other carried kindergarten students.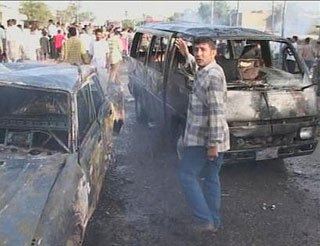 An Iraqi man gestures towards vehicles destroyed by one of three explosions which hit the southern Iraqi city of Basra early Wednesday April 21, 2004. [AP]

Some 10 children were among the dead, Iraqi Police Col. Kadhem al-Muhammedawi said. It was not immediately clear which bus they came from.

Cars outside of the station were charred. The interior of one of the school buses was burned out, the seats shredded.

British forces who rushed to the scene were being hampered by angry protesters, said a Ministry of Defense spokeswoman in London, speaking on condition of anonymity.

The facade of the Saudia station was also heavily damaged and there was a hole 6-feet deep and 9-feet wide in front of the Saudia station.

More than 40 dead and 200 injured from the blast were brought to Basra's Educational Hospital, the city's largest, said Ali Hussein, an emergency physician at the facility.

Dozens of bodies could be seen in the morgue and in the hallways of Basra's Educational Hospital.

Another five dead and 36 injured were evacuated to a second hospital, Basra General Hospital, hospital officials said.

Witnesses said 10 people were killed in the police academy explosions.

"We don't know yet who committed these bombings," al-Halawi said. He said two British soldiers were wounded in the al-Zubair attack.

British military spokesman Squadron Leader Jonathan Arnold said the blasts were believed to have been caused by car bombs. Al-Muhammedawi said, however that the blast may have been caused by rocket attacks.

Also Wednesday, about 35 Iraqi insurgents attacked U.S. Marines in the besieged city of Fallujah with rocket-propelled grenades and small arms, setting off a heavy gunbattle, the military said. No casualties were immediately reported.

Iraqi security forces, some wearing flak jackets and carrying weapons, moved back into Fallujah, 35 miles west of Baghdad, on Tuesday, part of an agreement between U.S. officials and local leaders aimed at ending hostilities. The accord calls on insurgents to hand in weapons and allows civilians to return.

U.S. officials have warned that if guerrillas do not surrender their weapons, Marines are prepared to storm the city ! likely sparking a new round of bloody fighting.

On Tuesday, a senior member of Ahmad Chalabi's Iraqi National Congress was appointed to head the all-Iraqi tribunal ! a potentially controversial choice.

Chalabi, a longtime exile who returned to Iraq and was named to the U.S.-appointed Iraqi Governing Council, is mistrusted as an outsider by many Iraqis who want to see Saddam prosecuted by Iraqis who were present under his brutal rule.

Meanwhile, guerrillas fired a barrage of mortar rounds at Baghdad's largest prison, killing 22 prisoners in an attack a U.S. general said may have been an attempt to spark an inmate uprising against American guards. The slain prisoners were all security detainees, meaning they were suspected of belonging to the anti-U.S. insurgency or to Saddam's former regime.

A U.S. soldier was killed by a roadside bomb in the northern city of Mosul: It was the 100th American combat death in April, the deadliest month since the U.S.-led invasion began in March 2003.

At least 1,100 Iraqis have been killed in fighting since the start of the month, according to an Associated Press count based on reports from hospitals and Iraqi and U.S. officials.

Tuesday's mortar attack was the bloodiest against the sprawling prison complex of Abu Ghraib in western Baghdad. Ninety-two prisoners were wounded, 25 of them seriously, said Col. Jill Morgenthaler, a U.S. military spokeswoman.

"This isn't the first time that we have seen this kind of attack. We don't know if they are trying to inspire an uprising or a prison break," Brig. Gen. Mark Kimmitt told AP. In August, six security prisoners were killed in a mortar attack on the lockup, which was once Saddam's most notorious prison.

In the tribunal appointments, Salem Chalabi, a U.S.-educated lawyer and nephew of Ahmad Chalabi, was named by the Governing Council as director-general of the court, said INC spokesman Entefadh Qanbar.

Salem Chalabi named seven judges and four prosecutors, and further judges will be appointed, Qanbar said.

No date has been set for the trial of Saddam, who was captured by U.S. troops in December and has since been undergoing CIA and FBI interrogation at an undisclosed location in or near Baghdad.

On the council, Ahmad Chalabi, a favorite of the Pentagon architects of the Iraq invasion, has been a fierce proponent of expunging traces of Saddam's regime. He heads an official De-Baathification Commission that has been aggressive in purging Iraqis with links to Saddam's dissolved party from government positions ! so aggressive that even some U.S. officials have complained that it was getting rid of needed expertise.

Ahmad Chalabi's INC held a seat on the Governing Council commission that drew up the Saddam tribunal.

U.N. envoy Lakhdar Brahimi has recommended the council be dissolved on June 30 and a caretaker government of technocrats take its place. "Then certainly (Chalabi) and the INC will have a diminution in their political status," Dawisha said.

"If that happens, will the judge who is a relative of Chalabi be able to survive, or will the new government appoint a new group of people?"

Elections due by Jan. 31 for a government to replace the caretaker one also affect the tribunal. A court formed by an elected government would have more legitimacy in the eyes of Iraqis, Dawisha said.

Iraqis ! particularly the Shiite Muslim majority repressed by the Baathists ! have been eager to try the man who ruled them with an iron fist for decades. Shiites, particularly local leaders with grassroots support, are likely to dominate any elected government and could want to see their own people lead Saddam's prosecution.

A team of Justice Department prosecutors and investigators has been gathering evidence for a war crimes case against Saddam, while other international groups have been sifting through the mass graves where U.S. officials say 300,000 victims of Saddam's regime were buried.

Aside from the regime's brutal persecution of political opponents, Kurds and Shiite Muslims, Saddam's military used chemical weapons against troops and civilians during the Iraq-Iraq War and a Kurdish uprising of the 1980s.
Today's Top News
Top World News

DPRK's stance unchanged on 6-party talks




Suspected fake milk producers investigated




FBI boss sees US-Sino collaboration




Sino-Russian military ties deepened




Tranquilizers fed to baby girl by nurse




Demolition dispute in Guangzhou