James easily wins NBA Rookie of the Year
(Agencies)
Updated: 2004-04-21 09:31
More than 45 minutes late to a news conference, LeBron James was one teen who didn't need an excuse.
He's exhausted.
"They had to drag me out bed to put this suit on," James said Tuesday, when he won the NBA Rookie of the Year award. "I didn't want to get out. I thought I was going to practice when they woke me up this morning."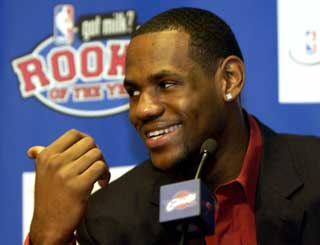 LeBron James of the Cleveland Cavaliers gestures toward his coach Paul Silas during a news conference after the NBA picked him for the Rookie of the Year award at Gund Arena April 20, 2004. [Reuters]

Hey, saving the Cleveland Cavaliers is hard work, and the 19-year-old James put the final touch on a remarkable season by becoming the rookie award's youngest recipient.

"I knew I would make an impact this year," said James, who easily beat Denver's Carmelo Anthony, also 19. "And I guess I did."

The 6-foot-8 guard made the jump from preps to pros look easy, somehow living up to the unprecedented hype. The No. 1 overall draft pick did more than just post jaw-dropping statistics night after night: He transformed Gund Arena into a hot spot, and he gave Cleveland fans reason to hope.

"He proved to all of us that he is up for a challenge. He exceeded all of our expectations and just kept raising the bar," Cavaliers owner Gordon Gund said.

James received 508 points, including 78 of a possible 118 first-place votes, to become the first Cleveland rookie honored.

Anthony, who left Syracuse after leading it to an NCAA championship as a freshman, finished with 430 points, including the other 40 first-place votes.

"People are going to think what they want to think," Anthony said. "I don't really know what else I could have done."

Dwyane Wade of the Miami Heat was third with 117 points in balloting by sports writers and broadcasters. Players received 5 points for a first-place vote, 3 for second and 1 for third.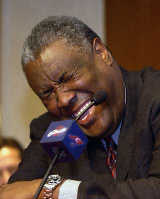 Cleveland Cavaliers' head coach Paul Silas reacts after a comment made by LeBron James during a press conference at the Gund Arena, April 20, 2004.[Reuters]

"I thought it could go either way," said James, who praised Anthony for having a phenomenal season. "I thought it could be a split decision."

In any other year, Anthony probably would have won the award for statistics similar to James' and helping the Nuggets go from 17 victories to the playoffs.

But this season belonged to James, from his 25-point, nine-rebound, six-assist NBA debut at Sacramento through his resounding windmill dunk to close his season at Madison Square Garden.

James followed Amare Stoudemire of the Phoenix Suns as the second straight rookie honored after turning pro directly from high school.

But that's where the similarities end.

No player entered the league to as much fanfare as James. And the Akron native delivered on the court, while his wine-and-gold No. 23 jersey led NBA sales and his image was marketed from coast to coast.

James averaged 20.9 points, 5.5 rebounds and 5.9 assists, joining Oscar Robertson and Michael Jordan as the only NBA rookies to average at least 20-5-5.

"He just has it. It's all his attitude," Cavaliers coach Paul Silas said. "He has a knack for doing and saying the right thing and not in an antagonistic way. That's just not in him. He's humble, and he's about winning more than anything."

Like any rookie, James had his share of struggles while adjusting to the pros. He learned to accept the punishment before dishing out some of his own.

On March 27, he scored 41 points against New Jersey to become the youngest player in league history to break 40. He scored more than 30 points 13 times, and made countless moves that defied description.

"They try to take away your manhood in this league, and they couldn't get mine," said James, who was to receive his trophy Tuesday night at the NBA store in New York. "I could have averaged around 25 points if I could have gotten a lot of calls."

A year after going 17-65, the Cavs went 35-47 and finished ninth in the Eastern Conference, one spot out of the playoffs. James also helped home attendance rise from 11,497 to 18,288 - the highest increase ever for a team that didn't move into a new building.

Plenty of those new fans came to see James, who actually considers football his first love.

He joked Tuesday that he just might have made the right choice by dropping football for good a few years back. Especially now that he's seen his friend, Maurice Clarett, go to court in an effort to enter the NFL early.

"I could have made it to the NFL," James said. "But I probably would have come in with Maurice and been sent back to college."
Today's Top News
Top Sports News

Leaders support nuclear weapon free peninsula




Tough action to wipe out `killer' milk powder




Forced demolitions blur rights




China opposes Vietnamese islands tour




Mubarak: Arabs hate US more than ever




Blasts rip Iraq police stations, kill 58