Man United: Old Trafford not a terrorist target
(Agencies)
Updated: 2004-04-21 09:20
Manchester United dismissed speculation Tuesday that the club's 67,000-seat stadium was a target for al-Qaida terrorists.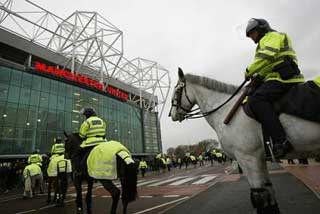 Police on horseback stand outside Old Trafford, the home of Manchester United Football Club, Tuesday April 20, 2004 before the team's game against Charlton in Manchester, England. A number of possible terror suspects were arrested April 19 in Manchester and the north of England. [AP]

British media reported that seven people arrested in anti-terrorist raids in the Manchester area Monday were planning suicide bomb attacks at the soccer team's high-profile Premier League game against Liverpool on Saturday.

Manchester United spokesman Phil Townsend said the club had received no specific warnings from police.

There were extra security checks at Tuesday's game against Charlton with more police on duty searching fans entering the stadium. The game finished with Manchester United winning 2-0.

"We have not been told that Old Trafford has been identified as a target," Townsend said. "We are in discussions with police regarding security at the ground but these are the routine discussions we would have on any match day. Decisions regarding security are normally made on match days."

Dave Whatton, assistant chief constable of Greater Manchester Police, said authorities have spoken with Manchester United and assured them to play Tuesday and Saturday.

United's neighbor, Manchester City, declined to speculate on reports that its City of Manchester Stadium might be a target.

"Clearly it is a matter for the security services and should be handled by the police," Manchester City spokesman Paul Tyrrell said.

Police said that nine men and one woman, of North African and Iraqi Kurdish origin, were picked up Monday in Manchester and other parts of northern and central England.

They were being questioned on suspicion of involvement "in the commission, preparation or instigation of acts of terrorism."

Manchester United fans said they were not worried by the reports.

"I'll be here tonight, no doubt about it," Rob Andrews said. "There are stories like this in the papers all the time and if you worry about it too much you'll never do anything at all.

"The security here is fantastic. I'm not worried about coming to the game and if I was I certainly wouldn't bring my kids."

Nicola Struthers said most fans wouldn't be put off by the reports.

"Threats like these are nothing new," she said. "Everybody in the country is worried about what could happen if a bomb goes off. It could happen anywhere so Manchester is as much a target as London."
Today's Top News
Top Sports News

Leaders support nuclear weapon free peninsula




Tough action to wipe out `killer' milk powder




Forced demolitions blur rights




China opposes Vietnamese islands tour




Mubarak: Arabs hate US more than ever




Blasts rip Iraq police stations, kill 58