Aboriginal woman puts curse on Australian PM
(Agencies)
Updated: 2004-04-21 09:16
An Aboriginal woman clad in animal skins has put a traditional curse on Australian Prime Minister John Howard, apparently in retaliation to government plans to abolish Australia's top indigenous elected body.
Howard encountered the woman on a visit to Colac, an outback town with 500 people in the southern state of Victoria.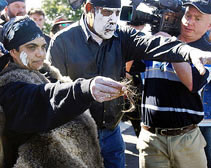 Aboriginal woman Moopor points the bone at Australian Prime Minister John Howard. [AP]

Supporters turned up to greet the prime minister along with angry Aboriginal protesters and the woman, known only as Moopor.

Painted in traditional tribal makeup and wearing possum skins, Moopor stood silently and cast the curse by pointing a small bone at Howard as he climbed into a waiting car. Howard smiled and waved at Moopor before leaving.

Moopor refused to speak with reporters, citing unspecified Aboriginal cultural reasons.

It was not clear what effect the curse was intended to have on the prime minister.

Geoff Clark, the chairman of the soon-to-be scrapped Aboriginal and Torres Strait Islander Commission, said the curse was a warning for Howard.

"Mr. Howard can ... ignore the message at his own peril and be put under a curse up until the next federal election," Clark told reporters.

The commission, widely referred to as ATSIC, advises the government on indigenous issues.

With 17 commissioners elected by Aboriginal voters and a budget of more than $600 million, it administers government-funded projects aimed at improving their lives.

But Howard said on April 15 that his government plans to abolish the 14-year-old commission because it has failed to improve the lot of most Aborigines, who remain the poorest, sickest and least-educated minority group among Australia's 20 million people.

In place of ATSIC, the government wants to appoint a panel of Aboriginal experts to advise it on indigenous needs.
Today's Top News
Top World News

Beijing reports suspected SARS case, China on alert




Report: N. Korea train crash kills thousands




Bush vows to sticks to one-China policy




US urged to stop Taiwan arms sales




Alleged collegiate killer goes on trial




Milk found bad in dead infant case