Iraqi tribunal to try Saddam
(Agencies)
Updated: 2004-04-21 08:35
Iraqi leaders named a tribunal of judges and prosecutors to try Saddam Hussein, placing a longtime opponent of the ousted dictator in the forefront of the case against him and his former Baathist inner circle, a spokesman announced Tuesday.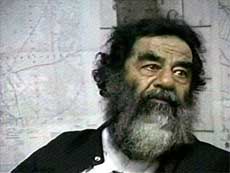 Captured former Iraqi leader Saddam Hussein speaks in Baghdad in this Dec. 14, 2003, file photo from television. [AP]

A senior member of Ahmad Chalabi's Iraqi National Congress was appointed to head the all-Iraqi tribunal ! a potentially controversial choice.

Chalabi, a longtime exile who returned to Iraq and was named to the U.S.-appointed Iraqi Governing Council, is mistrusted as an outsider by many Iraqis who want to see Saddam prosecuted by Iraqis who were present under his brutal rule.

Also Tuesday, guerrillas fired a barrage of mortar rounds at Baghdad's largest prison, killing 22 prisoners in an attack a U.S. general said may have been an attempt to spark an inmate uprising against American guards. The slain prisoners were all security detainees, meaning they were suspected of belonging to the anti-U.S. insurgency or to Saddam's former regime.

A U.S. soldier was killed by a roadside bomb in the northern city of Mosul: It was the 100th American combat death in April, the deadliest month since the U.S.-led invasion began in March 2003.

At least 1,100 Iraqis have been killed in fighting since the start of the month, according to an Associated Press count based on reports from hospitals and Iraqi and U.S. officials.

Tuesday's mortar attack was the bloodiest against the sprawling prison complex of Abu Ghraib in western Baghdad. Ninety-two prisoners were wounded, 25 of them seriously, said Col. Jill Morgenthaler, a U.S. military spokeswoman.

"This isn't the first time that we have seen this kind of attack. We don't know if they are trying to inspire an uprising or a prison break," Brig. Gen. Mark Kimmitt told AP. In August, six security prisoners were killed in a mortar attack on the lockup, which was once Saddam's most notorious prison.

Elsewhere, Iraqi security forces, some wearing flak jackets and carrying weapons, moved back into the besieged city of Fallujah on Tuesday, part of an agreement between U.S. officials and local leaders aimed at ending hostilities. The accord calls on insurgents to hand in weapons and allows civilians to return.

U.S. officials have warned that if guerrillas do not surrender their weapons, Marines are prepared to storm the city ! likely sparking a new round of bloody fighting.

In the tribunal appointments, Salem Chalabi, a U.S.-educated lawyer and nephew of Ahmad Chalabi, was named by the Governing Council as director-general of the court, said INC spokesman Entefadh Qanbar.

Salem Chalabi named seven judges and four prosecutors, and further judges will be appointed, Qanbar said.

No date has been set for the trial of Saddam, who was captured by U.S. troops in December and has since been undergoing CIA and FBI interrogation at an undisclosed location in or near Baghdad.

Though INC head Ahmad Chalabi played a leading role in the opposition abroad to Saddam, many Iraqis consider him and other Governing Council members as American implants. Chalabi has been trying to gain grassroots support for his faction after decades in exile.

On the council, Chalabi, a favorite of the Pentagon architects of the Iraq invasion, has been a fierce proponent of expunging traces of Saddam's regime. He heads an official De-Baathification Commission that has been aggressive in purging Iraqis with links to Saddam's dissolved party from government positions ! so aggressive that even some U.S. officials have complained that it was getting rid of needed expertise.

Any trial of Saddam is sure to begin after the June 30 transfer of power to a caretaker Iraqi government, after which the Governing Council will be dissolved.

If Chalabi's status is diminished in that handover, "there is a very good chance ... this court may see a change in its membership," said Adeed Dawisha, professor of political science at Miami University in Ohio.

Ahmad Chalabi's INC held a seat on the Governing Council commission that drew up the Saddam tribunal.

U.N. envoy Lakhdar Brahimi has recommended the council be dissolved on June 30 and a caretaker government of technocrats take its place. "Then certainly (Chalabi) and the INC will have a diminution in their political status," Dawisha said.

"If that happens, will the judge who is a relative of Chalabi be able to survive, or will the new government appoint a new group of people?"

Elections due by Jan. 31 for a government to replace the caretaker one also affect the tribunal. A court formed by an elected government would have more legitimacy in the eyes of Iraqis, Dawisha said.

Iraqis ! particularly the Shiite Muslim majority repressed by the Baathists ! have been eager to try the man who ruled them with an iron fist for decades. Shiites, particularly local leaders with grassroots support, are likely to dominate any elected government and could want to see their own people lead Saddam's prosecution.

The tribunal named Tuesday will not be an international one. However, its Iraqi judges and prosecutors will be trained in international and war crimes law and look at the experiences of bodies such as the Rwanda war crimes tribunal, said INC spokesman Entefadh Qanbar, who announced Salem Chalabi's appointment.

The court will determine charges against Saddam and his fellow Baathists, Qanbar said.

A team of Justice Department prosecutors and investigators has been gathering evidence for a war crimes case against Saddam, while other international groups have been sifting through the mass graves where U.S. officials say 300,000 victims of Saddam's regime were buried.

Aside from the regime's brutal persecution of political opponents, Kurds and Shiite Muslims, Saddam's military used chemical weapons against troops and civilians during the Iraq-Iraq War and a Kurdish uprising of the 1980s.
Today's Top News
Top World News

Tough action to wipe out `killer' milk powder




Nation opposes Vietnamese islands tour




Forced demolitions blur property rights




Mubarak: Arabs hate U.S. more than ever




Housing prices jump causes overheat worries




Iraqi tribunal to try Saddam