Tough action to wipe out `killer' milk powder
By Wang Ying (China Daily)
Updated: 2004-04-20 22:38
Dozens of markets have been raided and thousands of bags of "deadly" milk powder seized following the deaths of 13 babies in East China's Anhui Province.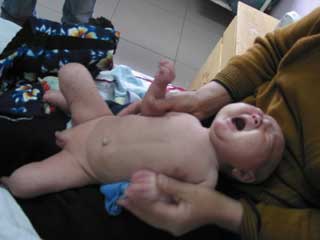 A baby suffers from malnutrition after drinking cheap milk powders. [Xinhua]
Residents of Fuyang call the illness that has spread around their village "big head disease."
It is a form of severe malnutrition in recently-born babies symptomized by the head growing proportionally larger than the body. Officials believe the deaths were caused by milk powder that did not meet basic nutritional standards.
One of the latest victims is a three-month girl called Han Qin, who was sent into Fuyang People's Hospital last Monday with serious malnutrition.
Her head grew abnormally large while her torso, arms and legs were just skin and bones.
The hospital has received 66 such "big head" babies since 2003. Eight died later, hospital sources said.
More than 100 other infants in the area, mostly between three and five months old, still suffer from malnutrition.
Several investigation teams have been dispatched to find answers.
Most of the babies affected were fed fake baby milk powder with little nutritional value. The fake powder is widely available in rural areas.
The tragedy has caught national attention.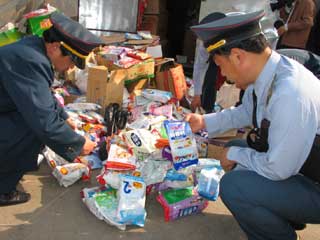 Law enforcers from the Fuyang Administration of Industry and Commerce confiscate 2,540 bags of fake and inferior-quality milk powders on April 19, 2004. [newsphoto]
Premier Wen Jiabao has vowed a thorough investigation and severe penalties for the producers of the fake powder. An investigation team was sent to Fuyang by the State Food and Drug Administration on Monday.
With the support of several other departments including the State General Administration for Quality Supervision and Inspection and Quarantine, State Administration of Industry and Commerce and the Ministry of Health, the investigation team will try to find out how the fake powder cases hit the market and punish those behind the sales.
The team will also try to develop measures to prevent a similar tragedy from happening again, food and drug administration officials said Tuesday.
The Fuyang Bureau of Industry and Commerce raided more than 40 markets and checked hundreds of brands of milk powder and seized more than 3,900 bags of fake milk powder over the weekend.
Officials suspect cheap milk powders produced in North China's Inner Mongolia Autonomous Region, Northeast China's Heilongjiang Province and Beijing.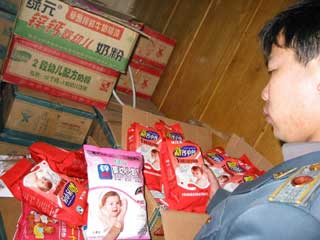 A market law enforcer checks the beautifully-packed milk powders that contain little or no nutrition at all in Fuyang, Anhui Province April 20, 2004. [Xinhua]

Bans on milk powders which failed to reach the national standard of protein content for infant milk powder -- at least 10 per cent -- are in place. Some 33 brands of milk powder have also been put on a "black list." However, those brands can be found on the market.

Some of them have only 1 per cent of protein, almost providing no nutrition for babies' growth, health experts said.

Food security is a serious problem in rural areas, said Xia Jiechang, an economics professor with the China Academy of Social Sciences.

"Rural areas become the biggest distributing centres for low-quality and counterfeit goods, where supervision is slack and information is insufficient," Xia said.
Today's Top News
Top China News

Tough action to wipe out `killer' milk powder




China opposes Vietnamese islands tour




Forced demolitions blur rights




Mubarak: Arabs hate US more than ever




Housing prices jump causes overheat worries




Iraqi tribunal to try Saddam