Spurs shut down Grizzlies to take 2-0 series lead
(Agencies)
Updated: 2004-04-20 11:43
The Memphis Grizzlies promised they'd be better in Game 2, and for most of the night they were. But then came the fourth quarter.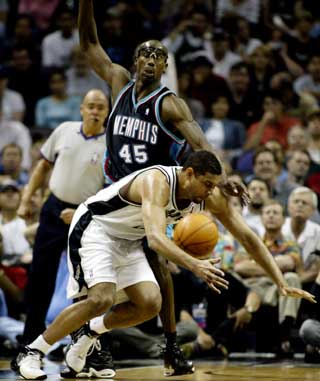 Memphis Grizzlies' forward Bo Outlaw (45) fouls San Antonio Spurs' forward Tim Duncan during the first quarter in Game 2 of the NBA Western Conference Playoffs in San Antonio, April 19, 2004. [Reuters]

The San Antonio Spurs went on a 14-0 run early in the final period, and their defense held Memphis without a field goal for nearly 11 minutes in a 87-70 win Monday night for a 2-0 lead in their first-round series.

Tony Parker led San Antonio with 27 points, and Tim Duncan scored 14 of his 23 in the second half. Robert Horry added 14 points for the Spurs, who shut down Pau Gasol in the second half to win their 13th straight game.

Game 3 is Thursday night at Memphis.

Memphis, which trailed by 11 at halftime, made its push to open the third quarter. Mike Miller, held scoreless in Game 1, scored nine quick points, and a pair of free throws by Stromile Swift cut the difference to 55-54.

Robert Horry made two 3-pointers and a putback, and Parker hit his fourth 3-pointer to put the Spurs ahead 68-59 after three quarters. San Antonio held the Grizzlies without a field goal for the final 3:49 of the period.

Memphis didn't get its next basket until Bonzi Wells had a putback with 5:02 remaining in the game to make it 82-62, ending the 14-0 run.

Gasol led the Grizzlies with 20 points and 11 rebounds, but he had only one field goal in the second half. Wells scored 13 and James Posey 10.

Gasol missed his first shot, but by the end of the first quarter, he had four baskets and three rebounds -- more than he had in either category in the Grizzlies' 24-point loss in Game 1.

The Grizzlies went up 17-14 on a corner jumper by Wells, but the Spurs then went on an 18-4 run in which seven different players scored. One of the baskets was Parker's third 3-pointer of the opening period.

Parker finished the half with 17, while Gasol had 13 on 6-for-7 shooting.

A layup by Posey cut San Antonio's lead to 37-31 with three minutes left in the half. After a jumper by Bruce Bowen, Horry picked off a pass to start the game's most crowd-pleasing play.

Horry got the ball to Parker, who dribbled through a narrow gap between Gasol and Jason Williams and finished with a layup around Lorenzen Wright to make the score 41-31.

Notes: The Spurs' Bruce Bowen finished fourth in balloting for the NBA's Defensive Player of the Year, won by Indiana's Ron Artest. ... Jason Williams averaging seven assists per game, has just seven in the first two games of the series. ... San Antonio's Jason Hart left the game with a mild concession early in the fourth quarter after a collision with Earl Watson.
Today's Top News
Top Sports News

Milk powders kill babies, PM orders investigation




WHO rules out Taiwan as member




Wu makes high stakes US trade mission




Subsidy to lift income of grain growers




Doctor: Sex harmful to middle schoolers




Soccer legend Maradona in critical condition