Resurgent desires
By Xu Xiaomin (Shanghai Star)
Updated: 2004-04-20 08:55
The China Ancient Sex Culture Museum, once located in downtown Shanghai near busy Nanjing Donglu, is about to re-open in its new home in Tongli Town in neighboring Jiangsu Province.
The move to Tongli, 80 km from Shanghai, was forced by a lack of funds to run the museum and by disagreements with city authorities about advertising its existence and location.
The museum opens its doors once more in Tongli on April 19, the third time the private museum has been forced to move in the past five years.
Invitation at right time
"In the past five years, the museum has been in the red for about 20,000 to 30,000 yuan (US$2,420 to US$3,630) every month. It has been very difficult for me to fill this hole," said Liu Dalin, president of the museum and a professor of sexual science.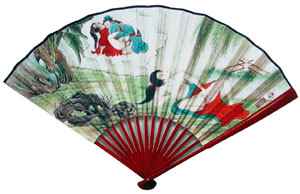 To create the museum, Liu and his partner, Hu Hongxia, invested more than 1 million yuan (US$120,000), almost all of their savings.
So when officials from Tongli, a famous tourism spot, came to Shanghai last June to talk about moving, Liu was very interested.
The two sides signed an agreement that the museum will be located in Tongli for 10 years.
Tongli invested about 3 million yuan (US$363,000) in the new museum which is next door to a well-known scenic spot, Tuisi Garden. Liu and the town will go halves in profits from ticket sales.
But town officials stressed that their motive was not merely to make a profit.
"Tongli attracts 1.5 to 2 million visitors every year and tourism generates an income of 20 to 30 million yuan (US2.4 to 3.6 million)," said Liu Xinzhong, the town head, on one of his trips to Shanghai. "I don't expect many people to come to the museum at first. Our first aim is to protect, research and exhibit Chinese cultural heritage."
Three-time removal
"I am not worried that local people might be against this museum," Liu said. He is happy to say he hasn't heard any opposition voiced by any of the more than 100,000 visitors to the museum when it was in Shanghai. Instead, many left encouraging words in the visitors' book.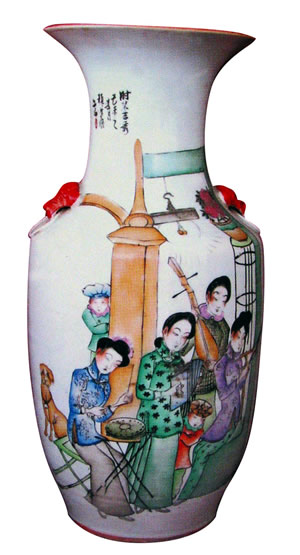 Liu said his museum had experienced three setbacks since it first opened in 1999.
Co-operating with the Shanghai New World Department Store Co Ltd, the museum moved to a building off Nanjing Donglu in September 1999 and at first attracted many visitors.
However, the museum's first setback occurred when it was forbidden to hang a sign outside on the street because the Pedestrian Street Administrative Office said it was not allowed to advertise sexual products under the country's Advertisement Law. As a result, many people were unable to find the museum located in a lane off Nanjing Lu.
The museum moved to Wuding Lu in 2001. "We kept applying to the Shanghai Tourism Administrative Commission for listing as a 'scenic spot'," Liu said. "With this certificate, the museum could have been listed on the itineraries of travel agencies and we would have had more visitors.
"The commission officials expressed their satisfaction after visiting the museum but the final answer was always no," Liu said with a little touch of anger.
The third setback occurred last June when Huangpu District refused to permit co-operation between Yuyuan Garden and the museum. Liu had planned to open his exhibition in the well-known Temple of the City God.
"There is a Chinese saying: 'People are ready to die for their close friends'. After so many up-and-downs, I was deeply moved by Tongli's offer. If the co-operation goes smoothly, the museum will be in Tongli forever," Liu said.
Ambitious sexologist
The new location of the museum is ideal according to Liu. When the highway linking Tongli and Shanghai is completed, it will take less than one hour to drive there.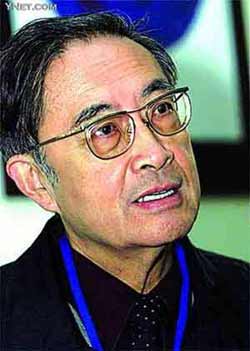 Chinese sex expert Liu Dalin

The new museum covers over 5,000 square metres and is next to an ancient garden, one of the cultural relic sites of neighbouring Jiangsu Province. The building was once a girl's school which opened in 1906.

In the large garden, in addition to planting trees and flowers, Liu also plans to construct a park of stone sculptures. Of course, the theme will be about sex. Such a park will be the only one in the world, he said.

Among the more than 4,000 sexual articles Liu has collected, some 30 are from 5,000 to 6,000 years old. The oldest artifact was found to be more than 8,000 years old. Tongli's slogan for the museum is: "Build the best sex culture museum in the world".

"This is not boasting," Liu said. "I have visited many sex museums in the US, Germany and Japan. None of them has been set up by a sexologist. I think they lack cultural taste and their collections are also not as old as mine."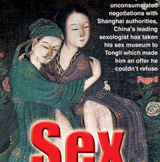 Liu will exhibit over 1,000 pieces of his collection in the museum, including all of his most treasured ones.
With Tongli's help, Liu said he had been relieved of his economic burden. His plan is to throw himself into collecting more relics and doing more research to develop this "almost abandoned science".
Liu said food and sex are the two essentials for human beings. "But sex is a topic that can't be talked about publicly," he said. "Most people think sex is an embarrassing subject to speak about."
Today's Top News
Top Life News

WHO rules out Taiwan as member




Wu makes high stakes US trade mission




Fake milk powders kill babies




Subsidy to lift income of grain growers




Doctor: Sex harmful to middle schoolers




Soccer legend Maradona in critical condition