Doctor: Sex harmful to middle schoolers
By Zheng Caixiong (China Daily)
Updated: 2004-04-20 08:40
Sex among middle school students may be contributing to growing sterility problems among young women in Guangzhou, capital of South China's Guangdong Province, says a prominent local doctor.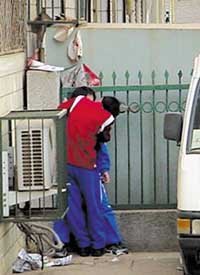 Puppy love is no longer a rare phenomenon in China. The youth have so easy access into information about love and sex that they are not mature enough to tell. [file photo]

According to a recent survey, more than 20 per cent of the couples in Guangzhou are now suffering from sterility.

And the trend is growing.

Li Bing, a senior gynaecologist from Guangzhou No 2 People's Hospital, said sex among ever younger people is one of the culprits.

More than one-third of the cases of sterility among women were connected with abortions.

Young women who have an abortion in their teens are usually hurt both physically and mentally resulting in sterility when they grow up, Li said.

The youngest woman who has come to Li's hospital for an abortion was just 13 years old, Li said.

Women under the age of 18 now account for more than 7 per cent of the total number of women who seek abortions in Guangzhou, Li said.

And the long summer and winter holidays are usually the peak periods for abortions among students.

Meanwhile the number of young women contracting diseases like cervical cancer, is growing steadily, Li added.

Adverse effects of sex can also be seen in young men.

The youngest man to date found to be suffering from impotence was only 19 years old. In previous years, most men diagnosed with similar symptoms were more than 30 years old.

Li believes excessive sex or masturbation at an early age may be behind the trend among local male adults, Li said.

About 30 per cent of local men suffer from impotence or premature ejaculation problems.

Another survey which was released in the Guangzhou Daily early this month said that more than 54.2 per cent of middle school students said they were not opposed to having sex.

And about 70 per cent said they would like to start dating in middle school.

Some 3,000 local middle school students from 10 schools were interviewed for the survey.

Many of the students who had sex or dated at an early age come from the city's key middle schools which usually contribute excellent students to the annual national entrance examinations for universities and colleges.

An official from Guangzhou Municipal Bureau of Education yesterday admitted dating and sex did exist in the school campuses.

"In some schools, more than 60 per cent of the students from senior high schools have begun dating, which affects their normal studies," said the official who refused to be named.

Curiosity and the great study pressure have been attributed to the growing number of students who have sex and date.
Today's Top News
Top Life News

WHO rules out Taiwan as member




Wu makes high stakes US trade mission




Fake milk powders kill babies




Subsidy to lift income of grain growers




Doctor: Sex harmful to middle schoolers




Soccer legend Maradona in critical condition