Water, air normal after gas explosion
(China Daily)
Updated: 2004-04-20 00:22
Water and air quality in Southwest China's Chongqing Municipality remained normal Monday after three chlorine gas storage tanks at the Tianyuan Chemical Plant were detonated on Sunday.
Chlorine tanks blasted and began leaking on Friday, killing nine and forcing 150,000 people to evacuate the area.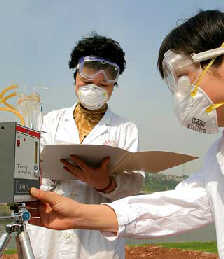 Experts test for chlorine gas in the air in Chongqing. Testing results indicate the air quality is normal. Tests by experts from local water works show that water quality in Jialingjiang River and from underground meets the required standard. [newsphoto]
Officials decided to detonate the tanks to prevent further leaks.Army tanks were used to shoot armour-piercing cannon-balls after two machine gun shots and nine bazooka shots failed to blow them up.
Afterwards, firefighters rushed into the plant to spray water foam and dilute the chlorine gas.
"Water and air quality in the city are normal today and people do not need to worry," an official with the municipal environmental protection bureau said Monday in a telephone interview.
The bureau set up testing spots immediately after the accident to monitor water and air quality. The monitoring is continuing.
According to a China Central Television (CCTV) report, birds were even seen resting on trees and the roof at the chemical plant.
A CCTV reporter said two days earlier there was an irritating and tear-inducing smell around the plant.
"Now people have come home and birds too. Birds do not feel bad, neither do people," he said.
After the detonation, all the evacuated people were told they could return home. The municipal government organized 800 buses to carry those people home.
By Sunday night people temporarily accommodated at the Jiangbei District 18th Middle School had left, said Liu Zhixin with the school office.

Army soldiers use an armor-piercing cannon to detonate chlorine gas tanks in Chongqing after an accidental leak April 18, 2004. The three remaining gas tanks were detonated at the Tianyuan Chemical Plant to avoid further leaks. Nine people were killed and 150,000 residents were evacuated in Southwest China's Chongqing Municipality. [newsphoto]
The school had held about 5,000 evacuated people since Friday night, Liu said.
New quilts were sent to the school on Friday night and food and milk were offered to the evacuated every day by the government, he said.
An investigation team led by Chongqing vice-mayor Zhou Mubing was set up to look into the accident.
Initial investigations show that violations of operating rules by workers and outdated equipment could be blamed for the chlorine leak and explosions.
Today's Top News
Top China News

WHO rules out Taiwan as member




Wu makes high stakes US trade mission




NPC meeting to decide on HK report




US disappointed with Spain's pullout




Water, air normal after gas explosion




HIV/AIDS war is human rights priority