Wu makes high stakes US trade mission
(China Daily)
Updated: 2004-04-19 23:24
Vice-Premier Wu Yi and a top-level delegation left for the United States Monday to attend a Joint Commission on Commerce and Trade on which both sides have pinned great hopes of solving a rash of thorny trade problems.
Wu will jointly chair the 15th session of the joint commission with US Secretary of Commerce Donald Evans and Trade Representative Robert Zoellick in Washington on Wednesday.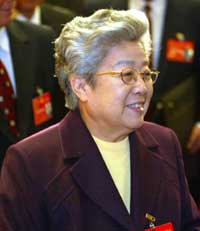 Vice-Premier Wu Yi attends the National People's Congress session in this March 5, 2004 file photo. [newsphoto]

Several topics are on their list, with new trade frictions emerging since late last year.

The United States is particularly interested in issues such as intellectual property rights protections, farm trade, value-added taxes on semiconductors imports, technical standard on wireless local area networks and continuing trade imbalances.

China is likely to ask the United States to ease its controls on exports of high-tech products and to recognize its market economy status, while also discussing restrictions on Chinese exports of textiles.

Both sides will have to exert political wisdom and negotiating skills in the one-day meeting if any concrete results are to be achieved, given the tough views presently being expressed politically towards China in United States.

The Bush administration has shown it will pursue an aggressive trade agenda during in this election year, with free trade and the migration of US jobs overseas -- especially to China and India -- becoming raging issues.

Analysts say growing number of trade disputes between the United States and China is a routine reflection in a US election year.

Both China and the United States have described their political relations as generally "good," and even the "best in history."

Trade between China and the United States reached a historic high of US$126.3 billion last year, according to Chinese statistics.

US figures indicate that exports to China surged 65 per cent in the past three years, while its worldwide exports overall decreased.

The joint commission was established in 1983 as a forum for high-level dialogue on bilateral trade issues and as a vehicle for promoting commercial relations.

It used to be co-chaired by US Secretary of Commerce and China's Minister of Commerce.

The level of the meeting was upgraded by the suggestion of Chinese Premier Wen Jiabao during his US visit last December.

During her stay in Washington, Wu is scheduled to meet with senior officials of the US Government, members of Congress and business tycoons, according to Chinese sources.

Wu's entourage includes senior officials from several Chinese ministries, including Bo Xilai, the newly-appointed minister of commerce and other vice-ministers from the Ministry of Commerce, the Ministry of Foreign Affairs, the State Development and Reform Commission, the Ministry of Information Industry, the Ministry of Communication and the Ministry of Agriculture.

China and the United States have voiced their readiness to resolve trade disputes through consultations and made extensive preparations for the meeting.

US Undersecretary of Commerce Grant Aldonas said in Washington recently that the US Government is intensely focused on a positive outcome for the meeting.

"We are really hopeful the joint commission in April will truly produce concrete results," he said.

US Vice-President Dick Cheney said during his visit to China last week that both China and the United States are increasingly crucial to each other in terms expanding trade and economic co-operation and added trust will serve the fundamental interests of both nations and benefit the world at large.

Wen said during his meeting with Cheney that China and the United States should view their relations from a "long-term and strategic" perspective, and should strengthen their trade relations on the basis of "mutual respect, equality and mutual benefits."
Today's Top News
Top China News

WHO rules out Taiwan as member




Wu makes high stakes US trade mission




NPC meeting to decide on HK report




US disappointed with Spain's pullout




Water, air normal after gas explosion




HIV/AIDS war is human rights priority