Truck robber shot dead after highway chase
(Xinhua)
Updated: 2004-04-19 13:47
A native of north China's Hebei Province was shot dead by police in Beijing Sunday after he struck 20-plus motor vehicles and injured eight people while driving a stolen truck.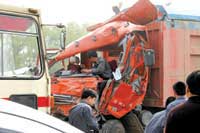 The robber Yang Wei is shot dead by police when he tried to fetch something and resisted arrest. [stardaily.com.cn]

The man, Yang Wei, reportedly stole an orange-colored truck at a village in Changping District of Beijing Monday morning.

The truck collided with two mini-buses when it began driving against traffic at 9:28 a.m. today.

Acting on reports, local police organized efforts to intercept the truck. However, Yang's truck broke through four police

blockade lines. When it came to a toll collection center on Badaling Expressway, the truck turned around abruptly and again drove toward oncoming traffic.

To ensure the safety of passers-by, police evacuated people present and shot into the air as a warning. But the truck bumped into two police cars, a water tank and a bus parked at the roadside. Finally, police shot him dead.

Investigation into the case is still going on.

Today's Top News
Top China News

WHO rules out Taiwan as member




Wu makes high stakes US trade mission




NPC meeting to decide on HK report




US disappointed with Spain's pullout




Water, air normal after gas explosion




HIV/AIDS war is human rights priority