Fake milk powder kills dozens of babies
(Xinhua)
Updated: 2004-04-19 12:58
Several dozen babies have died of malnutrition in rural central China after being fed fake baby milk powder which contained little nutritional value.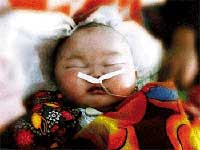 A victim of the fake and foor-quality milk powder.[file]

The Beijing News said several companies making fake and low quality baby formula starting selling their products to village markets in Fuyang city in Anhui province last year.

The paper said some 100 to 200 babies who had the formula came down with what doctors called "big head disease."

The babies' heads grew abnormally large while their torsos, arms and legs were just skin and bones.

Some 50 to 60 infants died from eating the formula.

Investigators later found the milk powder did not meet even one-third of the required nutritional value for baby formula.
Today's Top News
Top China News

Renminbi interest rate to remain unchanged




Rocket blasts small satellites into space




Experts optimistic about grain output




Chongqing gas leak controlled; nine dead




Spain pulls from Iraq, 10 US troops killed




Eager Guangzhou eyes 2010 Asian Games