Spain pulls from Iraq, 10 US troops killed
(Agencies)
Updated: 2004-04-19 08:56
Spain said it would withdraw its 1,400 troops in Iraq as soon as possible, dealing a major blow to the U.S.-led coalition as 10 U.S. soldiers were killed in fierce fighting against guerrillas.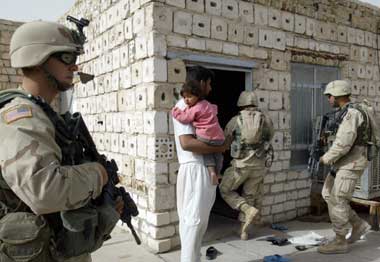 U.S. soldiers from the 2nd Battalion, 2nd Regiment of the First Infantry Division search a house near Kufa, Iraq, April 16,2004. Shi'ite guerrillas clashed with U.S. troops near Kufa on Friday as their leader, rebel cleric Moqtada al-Sadr, defied demands that he disband his militia to spare Iraq's shrine cities from bloodshed. [Reuters]
U.S. President Bush's national security adviser, Condoleezza Rice, said Sunday the United States expected other countries with troops in Iraq to reassess their position after Spain's decision.
"We know that there are others who are going to have to assess how they see the risk," Rice told ABC television. "We have 34 countries with forces on the ground. I think there are going to be some changes."
Spain, which has the sixth largest number of troops in the coalition, announced its decision amid Iraq's bloodiest period since Saddam Hussein's fall and as the U.S. combat death toll topped 500 since the war to oust him began in March last year.
Spain's new Prime Minister Jose Luis Rodriguez Zapatero said Sunday he issued the pullout order because he did not expect a U.N. resolution to be adopted "that conforms with the conditions we have set for our presence in Iraq."
ZAPATERO PLEDGE
Zapatero's Socialists had pledged before winning a March general election to withdraw Spain's troops unless the United Nations took control of security arrangements in Iraq on June 30 when Washington plans to hand over power to Iraqis.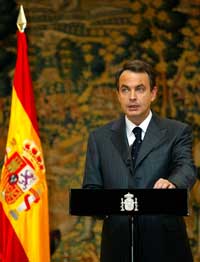 Spain's new Prime Minister Jose Luis Rodriguez Zapatero delivers his statement at Moncloa Palace April 18, 2004. Rodriguez Zapatero said he had given orders for Spain's 1,400 troops in Iraq to be brought home as soon as possible. [Reuters]

"This morning...I gave the order to do what was necessary for the Spanish troops stationed in Iraq to come home in the shortest possible time and in the greatest possible safety," Zapatero said on Spanish television.

Spaniards, who largely opposed the U.S.-led war that ousted Saddam, swept Jose Maria Aznar's pro-U.S. Popular Party from power in a poll held in the shadow of suspected al-Qaeda-linked train bombings in Madrid that killed 191 people.

A purported al-Qaeda video tape said the March 11 bombings were retaliation for Spain's military presence in Iraq and Afghanistan.

White House spokesman Ken Lisaius said Washington wanted the Spanish withdrawal to be made in a "coordinated, responsible and orderly manner" but offered no comment on Madrid's decision.

The Spanish troops, part of a Polish-led multinational force responsible for a swathe of central and southern Iraq, have come under sporadic attack and several have been wounded.

At least 10 Spanish military personnel have been killed in Iraq since last August.

BREMER WARNING ON IRAQI FORCES

Iraq's U.S. Governor Paul Bremer said the fledgling Iraqi security forces Washington has been training would not be able to cope on their own after June 30.

U.S. commanders have acknowledged some Iraqi forces have not been up to the job yet in fighting guerrillas and media reports said about 200 Iraqi paramilitary troops refused to take part in one U.S.-led operation.

"Events of the past two weeks show that Iraq still faces security threats and needs outside help to deal with them," Bremer said in a statement.

"But it is clear that Iraqi forces will not be able, on their own, to deal with these threats by June 30 when an Iraqi government assumes sovereignty."

Five of the 10 latest U.S. combat deaths were Marines who were killed in bloody clashes against scores of heavily armed guerrillas near the Syrian border, the U.S. military said.

Ninety-nine U.S. soldiers have been killed in action this month -- more than the number of U.S. combat deaths in the three-week war that toppled Saddam.

The heaviest fighting at the weekend was in Qusayba on the Syrian border where the U.S. military said 25 to 30 guerrillas had also been killed.

"Marines continued to bring coordinated fire against the enemy force of approximately 120 to 150 fighters throughout the day and into the night," the military said in a statement.

HUMAN SHIELDS

The Marines said women and children had surrounded guerrilla mortar positions, apparently as human shields.

General Richard Myers, chairman of the U.S. Joint Chiefs of Staff, told CNN guerrillas in the Sunni bastion of Falluja, 50 km (32 miles) west of Baghdad, had also used human shields.

U.S.-led forces, who have battled for months to end Sunni guerrilla attacks, have faced a new front this month because of a Shi'ite uprising led by rebel cleric Moqtada al-Sadr.

The number of civilians killed this month -- reported by doctors to be in the hundreds -- has angered many Iraqis and triggered kidnappings of foreign civilians from more than a dozen countries.

Talks are going on to bolster a shaky truce in Falluja and to prevent violence in Najaf, a holy city to Iraq's Shi'ite majority, where Sadr is holed up and protected by his militia.

Sadr's spokesman Qays al-Khazali told a news conference the cleric's Mehdi Army militia would halt military operations in and around Najaf during commemorations Monday and Tuesday for the anniversary of the Prophet Mohammad's death.

About 2,500 U.S. troops have been poised on the outskirts of Najaf for several days, with orders to kill or capture Sadr.

U.S. officials demand that the cleric disarm his Mehdi Army and turn himself in to stand trial in an Iraqi court for the murder last year of a moderate Shi'ite cleric in Najaf.

Falluja enjoyed a second day of calm. U.S. Marines launched a crackdown in Falluja after the killing and public mutilation of four American private security guards ambushed on March 31.

Today's Top News
Top World News

Renminbi interest rate to remain unchanged




Rocket blasts small satellites into space




Experts optimistic about grain output




Chongqing gas leak controlled; nine dead




Spain pulls from Iraq, 10 US troops killed




Eager Guangzhou eyes 2010 Asian Games