Experts optimistic about grain output
By Gao Anming (China Daily)
Updated: 2004-04-19 07:46
Chinese agricultural experts expressed cautious optimism over the weekend concerning substantial increases in grain output and the income of farmers, two key targets set by the government for this year, but stressed that more concrete measures are needed to ensure that goal.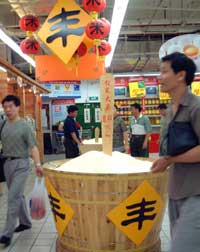 Experts predict that China would substantially increase wheat imports this year owing to insufficient domestic production. [newsphoto]

In the newly published book "Analysis and Forecast of China's Rural Economy '04," experts state that the country could produce 455 million tons worth of cereal, 5.6 per cent more than last year, and that per capita rural income should grow by at least 5 per cent minus inflation, 0.7 percentage points higher than in 2003.

They also predicted that China would substantially increase wheat imports this year owing to insufficient domestic production, while slashing its exports of soybeans.

Total foreign trade volume of agricultural goods should undergo another surge, but trade surpluses in the sector would be cut even further, or even end in a deficit. Surpluses stood at US$2.5 billion last year, down 56 per cent from 2002.

The book, the 12th of an annual series since 1993, was jointly compiled by the Rural Development Institute of the Chinese Academy of Social Sciences and the General Organization of Rural Socio-Economic Surveys of the National Bureau of Statistics.

China produced 430.7 million tons worth of cereals last year, down 5.8 per cent from the previous year, and 15.7 per cent less than its peak output in 1996. The consecutive slide in grain production, coupled with sluggish growth in the income of farmers, has sounded alarms for high-ranking officials, prompting them to implement a package of measures earlier this year to reverse the trend.

At the annual session of the National People's Congress in March, Premier Wen Jiabao said agricultural and rural work top the agenda of the central government.

"Heavy government input and drastic hikes of grain prices on the market have combined to benefit farmers directly, and enhance their enthusiasm for growing grain," said Li Bingkun, a senior researcher with the State Council Research Office.

He cited the expansion of harvest areas and increasing supplies of agricultural materials as proof for his assumption.

During the first quarter of the year, rural residents earned 834 yuan (US$100) per person, a year-on-year increase of 9.2 per cent after inflation, 1.7 percentage points higher than the same period last year, according to the National Bureau of Statistics.

Li said that further price rises are necessary to lure more farmers into grain growing. Li's opinions were echoed by Tang Renjian, a researcher with the Financial and Economic Leading Group of the Central Party Committees, who said rising prices should send key signals to farmers concerning their choices of crops.
Today's Top News
Top China News

Renminbi interest rate to remain unchanged




Rocket blasts small satellites into space




Experts optimistic about grain output




Chongqing gas leak controlled; nine dead




Spain pulls from Iraq, 10 US troops killed




Eager Guangzhou eyes 2010 Asian Games