Premier: Further leaks should be avoided
(Xinhua)
Updated: 2004-04-18 08:58
Premier Wen Jiabao gave instructions Saturday for effective measures to be taken to eradicate any hidden dangers from the chlorine leak accident in southwest China's Chongqing Municipality.
Further leaks or blasts should be avoided to ensure rescuers' safety and the injured should be rescued at all costs, the premier said.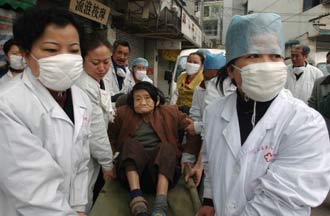 A senior resident is rushed to the hospital after explosions and a leak of chlorine gas in a chemical plant in Jiangbei District of Chongqing April 16, 2004.[newsphoto]
Residents living near the accident site should be relocated properly and provided with enough daily necessities to maintain stable social order and experts from the state safety supervision department should be sent to the accident site to join the rescue work, he said.
Environment inspection should be strengthened and all possible measures should be taken to make clear the causes of the accident and guard against any hidden dangers, Wen added.
The chlorine leak began Thursday night at the Tianyuan Chemical Industry Plant in Jiangbei District and was followed by powerful explosions at Friday afternoon, releasing a high concentration of highly irritating, greenish-yellow chlorine gas. Nine people have been confirmed dead and three others injured.
Rescue work has been progressing smoothly. Rescuers have been clearing remaining explosion risks and spreading alkaline water into the air to neutralize the chlorine gas. The chemical plant has closed all the gas pipes and removed all possible dangerous chlorine tanks to safety. Only three tanks remained and the chlorine inside, about five tons, will be discharged safely.
The environmental protection departments have been monitoring water quality in the Jialing River and one affected waterworks in the area stopped water collection from the Jialing River.
Experts from the state safety departments arrived in Chongqing to take part in the rescue work Saturday afternoon.
Evacuees within 500 meters from the plant will have to spend another night in the temporary lodging sites.
Today's Top News
Top China News

Hamas leader killed in Israeli strike




Premier: Further leaks should be avoided




US soldier shown captive on videotape




Economic reform focuses on 7 fields in 2004




Fewer restrictions on foreign-invested firms




Foxes, cats also SARS carriers