US soldier shown captive on videotape
(Agencies)
Updated: 2004-04-17 21:12
An American soldier missing for a week was shown unhurt but clearly frightened in an Arab television broadcast in which the 20-year-old was surrounded by masked gunmen who offered to exchange him for imprisoned Iraqi fighters and claimed they had more hostages.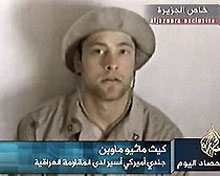 Pfc. Keith Matthew Maupin is shown on a videotape broadcast Friday April 16, 2004 by Al-Jazeera. [AP]

There was no sign of what happened to a soldier who disappeared with Pfc. Keith Maupin after their convoy was attacked April 9 outside Baghdad during a wave of kidnappings blamed on anti-U.S. insurgents.

In Fallujah, west of the capital, Iraqis and U.S. officials held their second day of direct negotiations Saturday aimed at stemming violence in the besieged city. About a dozen representatives of the city met with top U.S. and civilian leaders.

"Things were very quiet in Fallujah last night, which means we are succeeding," said Hashem al-Hasani, a representative of the Iraqi Governing Council who has been mediating between the United States and city representatives.

U.S. commanders moved forces from a key bridge across the Euphrates River that also controls access to the city's hospital.

"There are a lot of risks that we accept by pulling away from the bridge so it will be a gradual process," said Col. Tom Toolan, commander of the 1st Marine Regiment.

The footage of Maupin, aired Friday, showed him in a floppy desert hat, sitting on the floor and nervously looking around. Men whose head were covered with keffiyeh scarves stood nearby.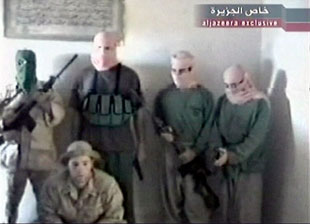 The poor-quality tape aired by Al Jazeera shows a white male identifying himself as Pfc. Keith Matthew Maupin dressed in military fatigues sitting on the floor surrounded by masked gunmen April 16, 2004. [Reuters]

"My name is Keith Matthew Maupin. I am a soldier from the 1st Division," he said, looking into the camera. "I am married with a 10-month-old son. I came to liberate Iraq, but I did not come willingly because I wanted to stay with my child."

The footage was aired during a day that saw several important Iraq developments. In Washington, U.S. President Bush and British Prime Minister Tony Blair, lead allies in the coalition that ousted Saddam Hussein, endorsed giving the United Nations broad control over Iraq's political future.

T the country's leading Shiite cleric warned the United States against entering the holy city of Najaf to capture a radical cleric wanted for murder.

In the video of Maupin, one of the gunmen was heard saying: "We are keeping him to be exchanged for some of the prisoners captured by the occupation forces."

"Some of our groups managed to capture one of the American soldiers, and he is one of many others. He is being treated according to the treatment of prisoners in the Islamic religion and he is in good health," the gunman said on the tape, a copy of which was dropped off at the U.S. Embassy in Doha, Qatar.

Coalition Provisional Authority spokesman Dan Senor said there would be no negotiation with the insurgents about releasing hostages.

Maupin, of Batavia, Ohio, went missing with Sgt. Elmer C. Krause, 40, of Greensboro, N.C., after their convoy was attacked. They are assigned to the Army Reserve's 724th Transportation Company, based at Bartonville, Ill, and Krause's fate was unknown.

Maupin was the first U.S. serviceman and second American confirmed kidnapped in a recent wave of abductions in Iraq.

Two Japanese were freed Saturday after three days, Japan's Foreign Ministry said. But the capture of the human rights worker and freelance journalist had never been officially confirmed.

Seven private U.S. contractors also disappeared after the convoy attack, including Thomas Hamill, a 43-year-old truck driver from Mississippi, the only other American known to have been captured. American experts were working to determine whether four bodies discovered west of Baghdad were the remains of some of the missing.

In the latest bloodshed, U.S. troops skirmished with Shiite militiamen near the southern city of Kufa; five Iraqis died. In the north, mortars fired by insurgents killed eight Iraqi civilians in Mosul.

In the Fallujah negotiations, the top civilian negotiator had warned Friday that time was running short for talks.

"I must be candid ... time is limited," said Richard H. Jones, deputy director of the U.S. coalition authority. "We cannot just sit and allow the situation to continue the way it is."
Iraqi Shiite cleric Moqtada al-Sadr

Iraq's top Shiite cleric, Grand Ayatollah Ali al-Husseini al-Sistani, warned the U.S. military against entering the holy city of Najaf to capture cleric Muqtada al-Sadr. Negotiations were under way to find a compromise to avert an attack on Najaf that could spark outrage among Iraq's Shiite majority.

U.S. Maj. Gen. John Sattler said the 2,500 U.S. troops deployed on the edge of the southern city would not move in for now. Negotiations are under way to find a compromise to avert an attack on Najaf.

"Right now we are respecting that. But this has got to come to a head one way or another," Col. Dana J. H. Pittard, commander of the soldiers surrounding the city, said Friday.

Al-Sadr, took a defiant tone, preaching while wearing a shroud symbolizing his willingness to die and warning that negotiations were near collapse.

"I am ready to meet martyrdom for the sake of Iraq," al-Sadr said Friday.

At the Maupin home in Ohio, 15 miles east of Cincinnati, a friend read a statement from the family but declined to answer questions.

"We'd like to say, `Matt, we love you and we can't wait until we get to hug you again,'" said Carl R. Cottrell II, the boyfriend of Maupin's sister. He wore a yellow ribbon pinned to his shirt and was flanked by military officers.

Top U.S. military officials said Friday they are trying to determine any organization behind the wave of abductions of foreigners in Iraq.

In investigating the various abductions, the U.S. military has seen "loose coordination" among them, said Army Brig. Gen. Mark Kimmitt, deputy head of operations in Iraq.

However, another top military official Baghdad said there was no information yet on who all the captors were and no evidence central organization.

At least 15 foreigners, according to an Associated Press tally, remain held or unaccounted for in the recent wave of abductions.
Today's Top News
Top World News

US soldier shown captive on videotape




US soldier shown captive on videotape




Rules to intercept unwanted messages




Scientist predicts earthquake by Sept 5




Alleged lover: Beckham affair mind-blowing




Beating the empty-nester blues