9 killed in Chongqing chlorine gas explosion
(chinadaily.com.cn/Agencies)
Updated: 2004-04-17 16:39
Leaking chlorine gas exploded at a chemical plant in China's southwest, killing as many as nine people and forcing 150,000 to flee their homes, the government said Saturday.
The explosion occurred Friday evening at the Tianyuan Chemical Industry Plant in the city of Chongqing, Xinhua News Agency said. It said seven people were confirmed dead and two were missing.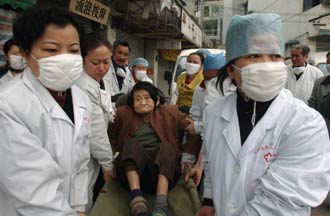 A senior resident is rushed to the hospital after explosions and a leak of chlorine gas in a chemical plant in Jiangbei District of Chongqing April 16, 2004.[newsphoto]


At least seven containers of liquefied chlorine were leaking fumes, which could be smelled nearly a quarter-mile away.

CCTV attributed the accident to outdated equipment and employees using it incorrectly.

Firefighters were spraying a mix of water and lye into the air in hopes of clearing away some of the gas.

The leaks were first detected late Thursday, Vice Mayor of Chongqing Zhou Mubing was quoted by Xinhua as saying. Minor explosions were heard later that night, but no injuries were reported at that time.

Residents were evacuated from areas within two miles of the plant. Most had returned to their homes by midday Saturday, but 30,000 remained in schools and other government buildings, the agency said.

In December, a gas well leak near Chongqing sent a toxic cloud spreading across villages, killing 243 people in one of China's deadliest industrial disasters.

On Wednesday, the State Council accepted the resignation of the chairman of the country's biggest oil producer, which owned the well.

More than 9,000 people were treated for injuries after the disaster and some 60,000 were forced to evacuate.
Today's Top News
Top China News

US soldier shown captive on videotape




9 killed in Chongqing chlorine gas explosion




Rules to intercept unwanted messages




Scientist predicts earthquake by Sept 5




Alleged lover: Beckham affair mind-blowing




Beating the empty-nester blues