Beating the empty-nester blues
By Raymond Zhou (China Daily)
Updated: 2004-04-16 23:21
With China becoming an aging society, more and more of the country's seniors find themselves living alone.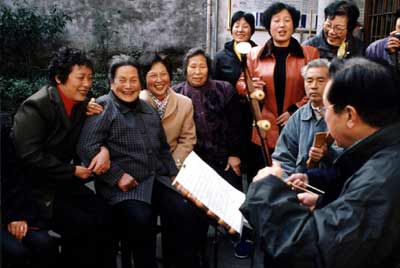 Senior residents are entertained by a group of community workers in Dinghai District, Zhoushan City of Zhejiang Province. [newsphoto]
Last year, an elderly person died in his Shanghai apartment. There was no foul play, no suicide, no crime whatsoever. What made it so sad was that he died alone and his death was not discovered until days later, and that was by accident.
It was the tragedy of an empty-nester whom nobody knew had died.
China used to be the country of big families. Old people were proud having swarms of children and grandchildren around. The picture of gold-year bliss is encapsulated in the phrase "kids running around your knees".
That was the golden old days. Nowadays families are smaller and kids choose to live away from their parents, sometimes out of necessity and at other times out of preference. The number of empty-nesters is fast increasing in size. A nationwide poll in 2000 found that, the heads of the household of 20 per cent of the 340 million families in China were 65 or older. Of this number, 22.83 per cent were empty-nesters, which means that all of their children had left home. This put the total number of empty-nesters aged 65 or over at 23.4 million.
In metropolitan areas, the ratio of empty-nester families is much higher than the 22.83 per cent national average. The proportion of over-65 empty-nesters in Tianjin reached 54 per cent in 1997 and 62.5 per cent in 2002. "If the data is extrapolated, the percentage of empty-nesters in the city will be much larger," says Hao Maishou, a research professor on aging at the Tianjin Academy of Social Sciences.
The trend is nationwide. The over-65ers in China's cities have a current ratio of empty-nesters of over 30 per cent, and it will go up to 80 per cent by 2010, predicts Zhao Baohua, deputy director of National Office on Aging.
Syndrome and remedy
When children leave home to make their own way in the world, the parents left behind, especially the older and retired ones, often have feelings of depression, loneliness and loss, which scientists refer to as the empty-nester syndrome. It is more poignant when a society as a whole encounters the process for the first time.
The graying of China has brought an urgency to this social issue, which used to be only a family issue, if it existed at all. Caring for those advanced years has always been a family affair. That was the Chinese tradition, and it won't be completely lost, says Zhao. "It is cost-effective and acceptable to most Chinese."
Researches find that pet owning is favourable to senior people's psychological health. [newsphoto]
However, the notion of family will have to be expanded to accommodate the changing social patterns. "The future pattern will be community-based," Zhao envisages. "A network of social welfare services administered by community organizations can be established to care for elderly people who no longer live with their children."
Professor Hao elaborates that there are four channels of resources that make up this bigger "family". In addition to relatives, there are neighbours, neighbourhood committees and former employers, which, together, can form a net that will ensure that old people are not neglected.
In Chongwen District of Beijing, one community has installed special alarm bells for 200 empty-nesters, who can get a variety of services delivered to their door, taking care of their shopping needs, offering companionship, or providing medical or emergency services. The arrangement was negotiated by the neighbourhood committee with 50 local businesses, including hospitals, supermarkets, restaurants and barber shops.
When a 73-year-old lady surnamed Lu suffered a heart attack, Cui Yanfeng, her designated community volunteer, showed up at her door within minutes of hearing the emergency bell. Lu was sent to the hospital, received prompt care and "was snatched from the grip of death", in the doctor's words.
Nationwide there are 50,000 service organizations that cater to the elderly. Over 800,000 elderly people suffering from senility or infirmity are cared for by these groups. In recent years, the Civil Affairs Ministry has invested 5 billion yuan (US$602 million) in setting up 20,000 "Starlight Homes for the Aged," providing easy access to recreation and other services. About 3.3 million volunteers have also signed up to offer a helping hand.
In Zhejiang Province, local courts provided special services for 4,600 senior citizens last year offering them free or subsidized legal aid. This service is being made available in more and more places, especially at the grassroots level. Most cities now offer substantial discounts to over-65ers for public transport, public park and movie tickets, hospital visits and the like.
Yet caring for the nation's elderly should not be left to the random kindness of neighbours or local officials. Many experts argue that there should be a concrete and specific welfare system designed to protect them.
Fortunately, such a system is gradually taking shape. In urban areas, basic financial aid is provided for the most needy. Provinces like Guizhou and Jiangsu have raising these payments by from 10 to 20 per cent. In rural areas, those with no income, no income-earning capability and no children or relatives who can support them fall under the umbrella of "full guarantee", a programme that guarantees food, clothing, housing, medical services and, after death, burial. In 27 provinces a basic safety net is being set up for the elderly, especially those who need help from society, many of whom are empty-nesters. For example, of the 6,000 elderly people eligible for help from aid programmes in Beijing in 2003, 4,500 were empty-nesters.
An extra dose of love
While financial difficulties are easily identified in certain segments of society and will be taken care of with the nation's economy roaring ahead, the need for health care is something that is of deep concern to all the elderly. "When people get older, they are more vulnerable to all kinds of ailments," says Xu Qin, a researcher at the China Research Centre on Aging.
Xu Qin points out that when people retire they tend to feel an acute sense of loss when contacts with former colleagues and even neighbours are frequently cut off. Since they live by themselves, their circle of communication and movement may shrink, which will intensify their loneliness. Poor health, or simply the fear of it, may drive some of them into depression. "They have lots of time and nothing to do. They need something to hang onto. Very often, the psychological agony is worse than physical illness," Xu adds.
That makes volunteer companions or pets very valuable. They fill in the void, a substitute for their children, so to speak. Also, when they walk their pets, they get to know other pet owners. As Xu suggests, empty-nesters should reduce their dependence on their children and take up new hobbies and join all kinds of recreational activities that involve them with other people.
The golden years of empty-nesters will be blissful if the whole society, including the elderly themselves, make a joint effort, says Xu. We may choose to live under separate roofs when we are young, but old age awaits us all.
Today's Top News
Top China News

China foils US' human rights motion again




7 killed, 4,000 evacuated after gas leak




Tung tells NPC of need for election change




US: China does not manipulate currency




269.7 kg of heroin found in beehives




Private car ownership sparks problems