Alleged lover: Beckham affair mind-blowing
(Agencies)
Updated: 2004-04-16 23:08
One of David Beckham's alleged lovers, Rebecca Loos, told all on Thursday about her supposed relationship with the England football captain, describing it is a "mind-blowing'' experience.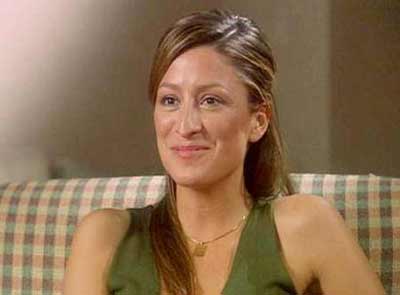 A handout video grab received on April 14, 2004 of Rebecca Loos, the former personal assistant to England and Real Madrid soccer player David Beckham, giving an interview with Sky Television. During the interview, which is due to be broadcast at 2200 BST on April 15, 2004, Loos, who claims she slept with the England captain, said what she did was wrong but insisted she was telling the truth. [Reuters]
In a no-holds-barred interview with BSkyB television, Loos -- one of two women to allege an affair with Beckham -- insisted she was telling the truth and that she was not proud of what she had done.
Beckham, the former Manchester United star, sold to Real Madrid for 25 million pounds (US$45 million) last July, has been the target of a daily barrage of revelations in the British press for two-and-a-half weeks, but has adamantly denied he had a fling.
Beckham's wife Victoria, a member of now-defunct British band The Spice Girls, continued to base herself in England in order to pursue her own career, when he moved to Spain, fuelling media speculation that their marriage was under strain.
Despite repeated denials from the couple, Beckham's alleged infidelities have made headline news in Paris, Sydney and even in Kuala Lumpur where a government minister urged Malaysians not to make a "hero'' of locally-born model Sarah Marbeck, the second woman to claim an affair.
"These are the facts, this is what happened, this is the truth,'' Loos said in her eagerly-awaited Sky One interview on Thursday.
"I was wrong to have done what I did, but it did happen and I am not going to live with a lie for the rest of my life,'' said Loos, the player's former personal assistant when he moved to Spain.
"He was incredibly lonely, very lonely. He was suffering in a way, he really missed his family,'' she said.
"He was in a foreign country, you don't speak the language, you've got a brand new team, you don't know them, you can't communicate with them.
"I felt like I was helping him, that I was there for him, and that I was giving him what he needed and what he was missing in a way.''
Loos claimed it was Beckham who had initiated things, suggesting one night that they go back together to his hotel room.
"The chemistry between David and I was so strong that everybody was aware. We gave each other a look, a nod of the head, paid the bill and left,'' she said.
Beckham was a generous lover who knew how to satisfy women, she added.
"I felt a million dollars. It was a mind-blowing experience,'' she said in the interview which was reported to have cost Sky 150,000 pounds.
Loos said she had no idea about Malaysian-born Sarah Marbeck, 29, who told the "News of the World" newspaper that she had a two-year affair with Beckham that started during a Manchester United tour in Singapore in July 2001.
She dismissed suggestions her and Marbeck's claims were a plot to try tobring down one of Britain's most high-profile celebrity marriages, and scoffed at the idea Beckham would take her to court.
"What are they consulting their lawyers for?'' she asked.
"I think the problems were in their marriage long before I came into the picture,'' she added.
Today's Top News
Top Sports News

China foils US' human rights motion again




7 killed, 4,000 evacuated after gas leak




Tung tells NPC of need for election change




US: China does not manipulate currency




269.7 kg of heroin found in beehives




Purported bin Laden 'truce' is rejected