9 killed, 150,000 evacuated after gas leak
(Xinhua)
Updated: 2004-04-16 22:57
At least nine people were killed on Friday by blasts in the wake of a chlorine gas leak in Jiangbei District of southwestern Chongqing Municipality, firefighters said.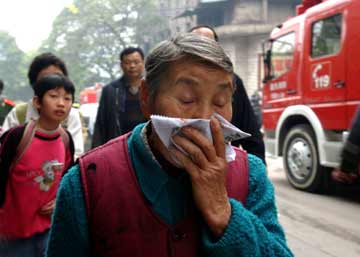 Residents nearby Chongqing Tianyuan Chemical Plant rush to a safe place after explosions and a leak of chlorine gas occurred in the plant on Friday. [newsphoto]
Xinhua reporters at the scene heard loud explosions at about 5: 57 pm from the Tianyuan Chemical Plant, where the chlorine gas first started leaking around 7 pm on Thursday.

The highly irritating, greenish-yellow fumes could be smelled in areas about 300 metres from the plant.
More than 150,000 residents have been moved out of areas within three kilometers surrounding the plant. Inhalation of 2.5 milligrams of chlorine gas is enough to cause death and symptoms of inhalation include bronchial spasms, dropsy and respiratory difficulty.
Residents living near the scene had to be evacuated again after they were temporarily allowed to return home, said Deputy Mayor Zhou Mubing, who is directing rescue work at the scene.
Thousands of people were evacuated on Friday, officials and eyewitness said.
All residents living within a kilometre of the spot and some residents in an urban area facing the plant across Jialing River were evacuated, the vice mayor said.

Firefighters estimated that at least seven liquefied chlorine gas furnaces, with a load of 6 tons of liquefied chlorine gas each, are letting off toxic fumes.


It was the third chlorine gas leak at the plant since last year, said a worker at the plant, who declined to be named.

Sources said the municipal government planned to move the chemical plant with a force of about 2,000 workers from downtown areas to Wanzhou District, a new city zone located in the Three Gorges Reservoir area.

The pressure inside the chlorine furnace has now been reduced to 0.25 kilograms per square centimetre from 1.5 kilograms per square centimetre after experts discharged half of the liquefied chlorine in three furnaces.
Today's Top News
Top China News

Beating the empty-nester blues




9 killed, 150,000 evacuated after gas leak




Corrupt Chinese official repatriated from US




Germany urged to curb 'Eastern Turkistan'




Rules to intercept unwanted messages




China foils US' human rights motion again