Chinese TV makers to appeal US tariffs
By Dai Yan (China Daily)
Updated: 2004-04-14 22:47
China's government and TV-set makers plan to appeal a decision by the US Department of Commerce which set new import duties.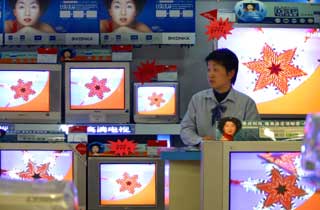 A saleswoman waits for customers at a Nanjing store in this March 3, 2004 file photo. [newsphoto]
Both manufacturers and the government are unhappy with the ruling which, in the end, sets tariffs that were not there before.
They plan to appeal the decision at the US Court of International Trade if the US International Trade Commission does not support them.
The DOC slapped import duties of 24.48 per cent on Sichuan Changhong, China's largest TV maker; 22.36 per cent on TCL; 11.36 per cent on Konka; and 4.35 per cent on Xiamen Overseas Chinese Electronic Co (Xoceco).
The final rate are not as high as what the DOC had originally threatened to impose.
In a preliminary ruling last November the DOC said it would impose import duties of 27.94 per cent for Konka, 31.35 per cent for TCL, 31.7 per cent for Xiamen Overseas, and 45.87 per cent for Changhong.
The four companies were selected as respondents by the US Department of Commerce in an anti-dumping investigation into Chinese-manufactured colour TV sets because it does not have the resources to investigate every company.
Nine other domestic TV makers including Haier Group, Hisense Electric, Philips Consumer Electronics, Skyworth Digital Holdings, SVA Group, Starlight International Holdings and three subsidiaries of Xinghui faced duties of 21.49 per cent.
Companies that did not respond will be imposed a high rate of 78.45 per cent.
The duties are not final until the US International Trade Commission rules on whether the US television industry has been hurt by the imports. A final decision is expected on May 27.
An official from the Bureau of Fair Trade for Import and Export of China's Ministry of Commerce, said the DOC decision is not a true reflection of local companies's operation, even if it did lower anti-dumping rates.
"The DOC unfairly refused to recognize China's TV manufacturing industry as market-oriented despite the widely known fact that they are operated in a market economy and compete fiercely," the official said.
Local TV manufacturers asked the DOC to recognize the free-market nature of the industry since the United States refused to consider China as a market economy.
Fu Donghui, a lawyer from the AllBright Law Office, said the DOC's refusal is not a complete surprise. The DOC has never granted market status to a Chinese industry.
Fu, who worked with the US law firm Willkie Farr & Gallagher, managed to lower Xoceco's rate from 31.7 per cent to 4.35 per cent by finding faults in DOC's calculations.
Among other things, the DOC calculated transportation costs from Xoceco's workshop to the shipping port using air fare costs while the two are just 2 kilometres apart, Fu said.
But Xoceco is still not satisfied with the low rate, said Li Yong, general manager of the Overseas Trading Co.
"Even though the rate will not have large impact on our business, we will continue to seek the final ruling we deserve," Li said.
Xoceco exports about 200,000 sets to the United States every year.
Hong Kong-listed TCL, which has agreed to merge its TV assets with those of France's Thomson SA to form the world's top TV maker, also said it is unhappy with the decision.
"We felt TCL's TV sale prices in the United States were reasonable, and are based on consolidated costs," TCL said in a statement.