Cheney: US-China relations in good shape
By Hu Xiao (China Daily)
Updated: 2004-04-14 23:46
US Vice-President Dick Cheney assured China's top leaders of his country's loyalty to the one-China policy and pronounced the US-Chinese relationship to be "in good shape."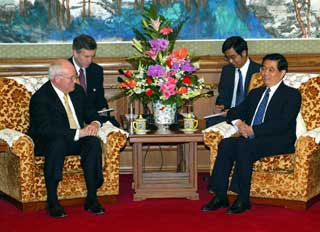 President Hu Jintao holds talks with US VP Dick Cheney in the Diaoyutai State Guesthouse April 14, 2004. [newsphoto]
During separate sessions Wednesday, President Hu Jintao, Central Military Commission Chairman Jiang Zemin, and Premier Wen Jiabao briefed Cheney about China's stance on Taiwan question and its concern over the US' position on that issue, said a Foreign Ministry spokeswoman.
"The Taiwan question concerns the sovereignty and territorial integrity of China, and is related to Sino-US relations and peace and stability of the Asia-Pacific region as well," Jiang was quoted as saying. He added that he hopes the United States can adhere to its commitment on the Taiwan question, and not send wrong signals to "Taiwan independence" forces.
"Sino-US ties will have more room for development if the Taiwan question is well handled," he said.
The Taiwan question is regarded as the vital problem between the two countries. At the end of last month, the Pentagon said it was developing a plan for the Bush administration to sell an early-warning military radar system to Taiwan, again arousing criticism from Beijing.
Diplomats and observers in Asia said Cheney's visit sends important and positive signals.
He Yafei, director of the Chinese foreign ministry's department of North American and Oceanian Affairs, told journalists last week that the visit shows the importance both sides attach to relations with each other.
"The message we want him to bring back to the United States, if any, is that China and the United States should co-operate with each other and make joint efforts to contribute to world peace and stability," He said.
Jin Canrong with the Renmin University of China said Cheney plays an enormously important role in drafting Bush's China policy and his China trip provides a significant dialogue opportunity to expanding bilateral ties.
Cheney, who has been described as the "godfather" of Bush's administration, is in close contact with the White House, Pentagon and other senior administration officials.
Ruan Zongze, a research fellow of the China Institute of International Studies, said Cheney's visit will also help the two nations seek more common ground on issues such as regional security, anti-terrorism and development of world economy.
The results of Cheney's talks with Premier Wen early Wednesday and then with President Hu echoed those comments.
Wen said China is willing to further enhance political mutual trust as well as trade and economic co-operation with the United States.
The Chinese premier said the two countries have many interests in common, and developing the relationship is in the interest of the people of both countries.
Cheney said China has become the third largest trading partner of the United States, and the two countries mean more and more to each other.
He said further expanding reciprocal co-operation would benefit both and the willingness of the Untied States to work with China to solve problems in trade and economic ties.
President Hu told Cheney that China is willing to strengthen strategic dialogues, enhance political mutual trust, properly handle concerns of each side while deepening mutually beneficial co-operation in a bid to reach a sound, stable and in-depth development of the relationship.
The US vice-President said the development of US-China relations has exerted important influence on international and regional peace and stability.
He also praised China's positive role on the nuclear issue of the Korean Peninsula.
Today's Top News
Top China News

Beijing slams Chen's 'independence push'




Cheney: US-China relations in good shape




Banning not the way to eliminate begging




Chinese TV makers to appeal US tariffs




68 officials punished for deadly accidents




Year of Monkey likely to see minor baby boom