US finalizes penalties on Chinese TV imports
(Agencies)
Updated: 2004-04-14 16:42
Trade relations between the US and China were set to take another turn for the worse as the US Commerce Department finalized its ruling that Chinese manufacturers were selling television sets in the US at below cost, paving the way for import duties to be slapped on Chinese TV manufacturers.
The ruling directly affects four Chinese TV makers - Sichuan Changhong Electric, Konka Group, TCL Group and Xiamen Overseas Chinese Electronic - that were at the heart of the Commerce Department's investigation into alleged dumping by China more than a year ago.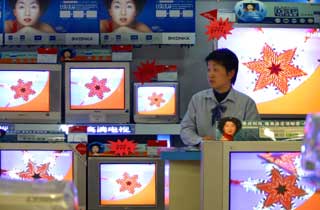 A saleswoman waits for customers at a Nanjing store in this March 3, 2004 file photo. [newsphoto]

The duties will not be finalized until the International Trade Commission rules on whether the US television industry and its workers have been injured by the imports. China plans to study the details of Wednesday's ruling and may consider appealing the decision with the US Court of International Trade, according to the China Chamber of Commerce for Import and Export of Machinery and Electronic Products, an industry trade group.

The Commerce Department slapped import duties of 24.48 per cent on Sichuan Changhong, China's largest TV maker; 22.36 per cent on TCL; 11.36 per cent on Konka; and 4.35 per cent on Xiamen Overseas, said the China Chamber of Commerce for Import and Export of Machinery and Electronic Products.

The group also said nine other domestic TV makers including Haier Group, Hisense Electric, Philips Consumer Electronics, Skyworth Digital Holdings, SVA Group, Starlight International Holdings, and three subsidiaries of Xinghui that had responded to the Commerce Department's probe faced duties of 21.49 per cent.

The penalties were less than the duties the Commerce Department originally threatened to impose when it made its preliminary ruling in November last year. At that time, the US threatened to slap import duties of 27.94 per cent for Konka, 31.35 per cent for TCL, 31.7 per cent for Xiamen Overseas, and 45.87 per cent for Changhong.

Nonetheless, the ruling is certain to inflame tensions during a year of fraught Sino-US trade relations in which the US has blamed China's rising trade surplus for the loss of American jobs and slapped new quotas on several categories of Chinese clothing imports.

Last month the US lodged its first World Trade Organization complaint against China, charging that Beijing was violating global trade rules by giving big tax breaks to domestic chip producers.

China says it is "baffled" by Washington's WTO complaint but is thought to be keen to resolve the issue bilaterally. That would prevent the dispute from going to a full panel session of the WTO and providing a pre-election victory for President George W. Bush.

China last year produced nearly 19m television sets worth more than $2bn, making it the world's largest manufacturer. Television imports into the US from China have grown sharply since the country joined the World Trade Organization in 2001.